50% OFF SECONDS Vet Loved Veterinary Bed Fleece Bedding Non Slip and Green Back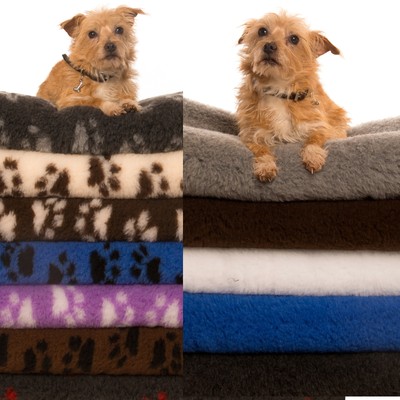 Condition
New other (see details)
Condition Note
Seconds-imperfect backing and/or not the exact correct size. All sizes are within a tolerance of +/- 3%.
50% OFF Veterinary Bedding SECONDS

Top Quality UK Manufactured Medical Grade Veterinary Bedding

Choose from Green Back(suitable for whelping or sick pets, and washing at high temperatures to remove all bacteria) or Non Slip(suitable for tiled, wooden and laminate floors as well as crates and car boot liners) NOTE: These beds are all seconds. They all have imperfect backing but this in no way affects their many qualities or usage and cannot be seen when in use. See images above for examples of the imperfections, these are not the exact beds you will receive. The beds all have imperfect backing and/or are not the exact correct size. All sizes are within a tolerance of +/- 3%. The only genuine Vet Loved® Veterinary Bedding - medical grade fleece bedding used by animal welfare professionals and pet lovers. Thick, Soft and Self Heating

PETS LOVE Vet Loved® Veterinary Bedding due to the thick 30mm pile which retains their body heat and provides a luxurious soft and comfortable rest Easy to Wash and Quick to Dry

WASHABLE at 95C(Green Back ) or 40C(Non Slip) in the washing machine and can be tumble dried on low heat

Easily Cut to Size

Vet Loved® Veterinary Bedding can be easily CUT TO SIZE using a Stanley Knife Liquids Drain through the Bed

Vet Loved® Veterinary Bedding is made from 100% polyester which has the property of any liquids draining straight through the thick pile leaving your pet CLEAN, DRY, COMFORTABLE AND WARM.

For young or sick animals that might be incontinent you can use an absorbent pad under the bed to catch the liquids and keep your flooring clean. Stain Resistant

Due to any liquids draining through the thick pile, your Vet Loved® Veterinary Bedding DOES NOT STAIN Chew Resistant

Pets usually DO NOT CHEW Vet Loved® Veterinary Bedding due to the unpalatable polyester fibres.

Some dogs and other pets maybe persistent and can chew the bedding – where animals are concerned nothing is indestructable. If your pet does eat any bedding please consult a Veterinarian immediately. Colourfast

No matter how many times Vet Loved® Veterinary Bedding is washed it retains the ORIGINAL COLOUR AND SHAPE AND . . . Does not Harbour Bacteria Helps prevent pressure sores Hygienic Non Allergenic Non Irritant Non Toxic Hardwearing COLOUR REPRESENTATION - We try to ensure that every product is accurately represented online, using professional studio shot images, but sadly computer screens cannot be relied upon to accurately replicate colours and will vary between different monitors and devices. Therefore the colours you see on your screen may not be a totally accurate reproduction of the actual product and should not be regarded as absolutely correct. If the shade of the product is important to you we recommend that you order a sample first. Please note that due to the nature of the material used all sizes stated operate with a tolerance of +/- 3% and the use of the dog breeds in the size descriptions is a fun way of illustrating the sizes not a guarantee it is a suitable size for all dogs of that breed. Meet the Team (Click the image to find out more about them)

For your convenience and security we accept Paypal only. Please pay within 3 days of purchase. We offer FREE shipping to the mainland UK on all items by Two Day Courier. Deliveries to Eire attract a surcharge(please type your postcode into Postage & Payments above for exact amount) and may take up to 5 days to deliver. Sorry we are unable to deliver to PO, BFPO, Northern Ireland, Isle of Wight, Highlands and Islands of Scotland, Isle of Man and Channel Islands addresses. Most items are shipped SAME DAY when payment is received by 12pm, and all items are shipped within one working day.



We ARE RESPONSIBLE for your goods in transit and will issue a full refund or replacement, if they are lost or damaged. All claims must be advised to us via email within 21 days of receipt or non delivery. If you have any queries please contact us using the eBay messaging system. For your peace of mind we offer a 100% NO QUIBBLE MONEY BACK GUARANTEE We inspect all items prior to despatch so that they arrive with you in good condition. If however the item has developed a fault in transit, you should contact us immediately at using the eBay messaging system. In the unlikely event that you decide you do not want to keep your item, it may be returned for a no quibble money back guarantee within 30 days of receipt - providing that the item is returned in perfect condition, unused with tags intact. This does not affect your statutory rights. If you wish to return a product please follow these instructions:

1) Contact us at using the eBay messaging system

2) Repackage the item properly - we are not responsible for goods returned damaged to us

3) We recommend you send your returns by tracked delivery, as we cannot be responsible for returns we do not receive.

4) For faulty items we will either refund your money in full (including all postage costs) or replace the item.

5) Where the item is returned in perfect condition, unused with tags intact under our no quibble money back guarantee, we will refund the purchase price but not any of the return postage costs.