INSTANT FAST iPhone iPad IMEI CHECK NETWORK CARRIER MODEL ICLOUD BLACKLIST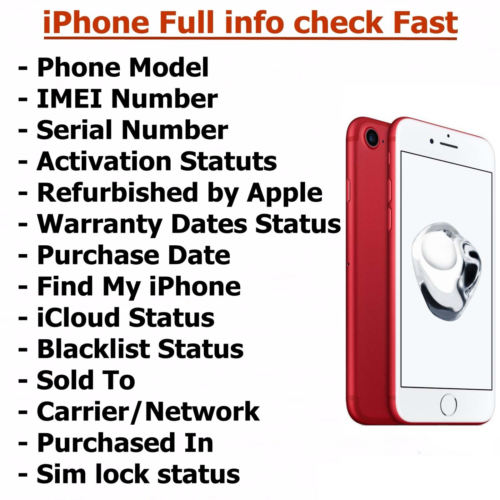 INSTANT AND FASTEST ON EBAY!Waiting Time 5 mins-1 hour Fast!(in rare occasions may take up to 24 hour)



This service is very useful if you are going to buy an Iphone, to make sure everything is OK!You will be able to see model, the icloud( Find My iphone) is on or off, sim lock status, locked carrier and is it BLACKLISTED OR CLEAN!Example of what you will get:Model : iPhone 6 Gold 16GB

IMEI Number : 3592460458****

Serial Number : FK1PX741****

Find My iPhone : ON

iCloud Status : CLEAN

Blacklist Status : CLEANInitial Carrier : ORANGE FRANCE

Sim lock status : Locked



To check your phone:

1- We need the IMEI NUMBER of your device, to get the IMEI NUMBER please enter *#06# into your phone to retrieve the unique 15 digit IMEI number

2- Send the IMEI NUMBER, add message to seller during checkout.

Terms & Conditions: ONCE YOU SUBMIT YOUR ORDER, NO CANCELATION/CHANGES/REFUND CAN BE MADE STRICTLY NO REFUND - if you purchase it by mistake!

Buy With Confidence - We are a Trusted Business Seller with a great Feedback Rating!