LEGO Dimensions ToyTag Only Character Disc: -- MASSIVE COLLECTION!! --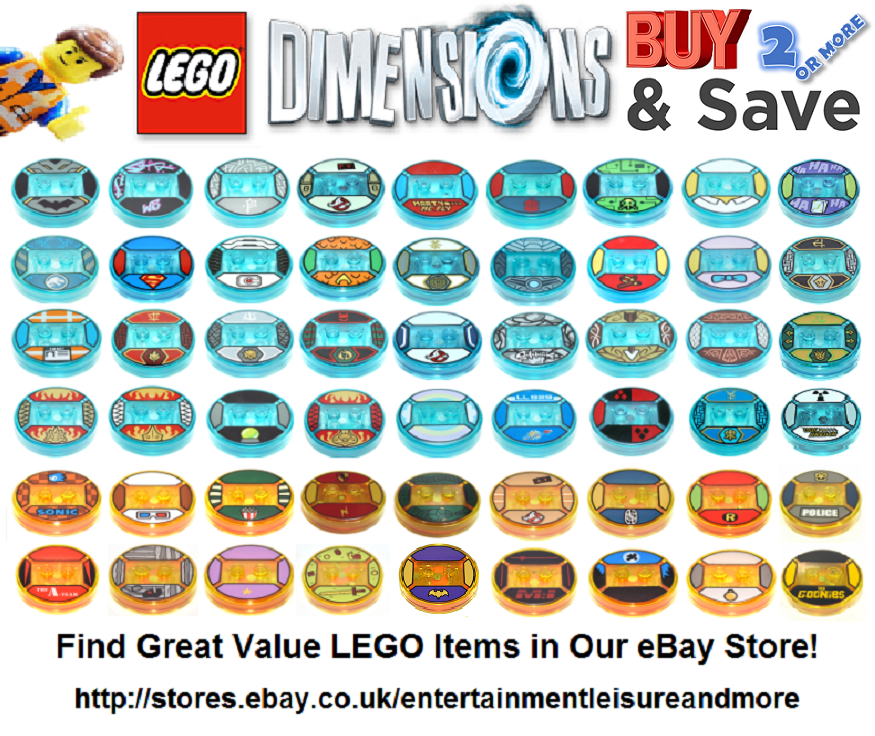 Condition Note
These Discs Are In Perfect Working Condition. This is for the main character Discs Only and Doesn't include any LEGO. This does not affect the gameplay in any way.
Item Details? Welcome fellow Lego Dimensions Enthusiast!

Use the drop-down box to chose the character discs you want. Add to basket, then go back and select any more you want.



For sale are the Disc Only main character discs for all the LEGO Dimensions Fun, Team, Level & Story packs. This sale doesn't include any LEGO, just the main character discs (Toy Tags) included in the packs. Not having any LEGO does not affect how these discs works in the game and are the only thing you need to use the characters in the Lego Dimensions game. If you are unsure what you are getting or how to use them then please message me and I will be more than happy to help. The Lego Dimension packs are Multi Format so will work on PS3, PS4, Xbox One, Xbox 360 and the Wii U Any questions then please first look through the information below, however if you can?t find your answer there then please feel free to message me. Condition? Plain Blue Discs (Toy Tags)? The plain blue discs you receive may be blank or have different vehicles on, please don't worry as they are re-writable so all you need to do is play the game and your main character will tell you to save your new vehicle to disc, at this point the plain blue disc will be whatever it is in your pack. You can also wright over the information on them when you go in to the portal to upgrade your add on/vehicles (if you?re not sure you can find how to do it on YouTube) Lego? Unless stated all our items are 100% complete, that being said we are only human and sometimes may miss something, if this is the case then please let us know and we will do our best to fix this. If your purchase Lego then don?t worry there are several ways to get any pieces you need. None of our items are boxed, unless stated, as this more than doubles the price of postage. If you want to pay the extra postage and we have a spare box for an item, then please message us and we will endeavour to help where possible. We don?t include the ?Instructions? in our auctions as they aren?t instructions, they only include information on how to put the main characters head and legs on (if you need help with this then Lego is not for you), what other packs you can buy and an item list; it?s just marketing info. All build information comes on in the game as you use your character but can also be found online really easily, just start your search with ?Lego Dimensions Build?? then your pack name. Software (Discs & Cases)? All our discs are check as being used can have minor scratches on the disc or the case. I have worked in the games industry since before the original PlayStation so understand the importance to customers about the quality of the disc, if I would use it then I don?t sell it. You will Never receive a poor quality disc! Bases and Portals? All our bases are checked before we send them to ensure that are 100% working, please note we also mark our bases to prevent fraud; fraudulent behaviour will be reported to eBay. Postage? Postage? All our items are posted by Royal Mail Signed for, we give you the option for 1st or 2nd class. If for any reason this has not appeared on the advert, then please let us know and we can add this option for you. Tracking? We keep the tracking details for all our items and add them on to the purchase information as soon as we can. You can get access to this information and track your item (Please be aware that there is normally a delay by Royal Mail on updating this information). If you haven?t received your item by the allotted time on the advert, then please let us know. Handling time? As we state on the auction page our handling time is 2 working days, we are only a small family and have family and work commitments. Working days are Monday to Friday. That being said we really do make every effort to get your item postage on the day of payment. Packaging? All our items are posted in Jiffy bags and individual Lego pieces are also wrapped in bags inside the jiffy bags just in case the jiffy bags get torn in transit. Who We Are? Mom & Pop Operation (+ Teen Daughter)? We are not a large, or for that matter, a small company, we are just a family that started selling Lego Dimension accessories due to the fact we couldn?t believe the ridiculous prices we were having to pay for extras for our daughter and wanted to do something about it. So its just me, my wife and daughter!

Please Note: LEGO is a construction item and our new and used items may require some assembly.