-UK- Blackhead Remover Cleaner Acne Cleanser Needle Pimple Spot Extractor (060)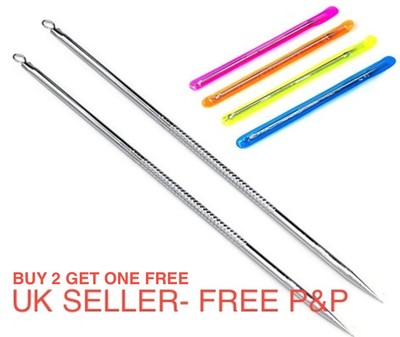 Acne Blackhead/ Whitehead Removal Tool



Do not squeeze or pick at black/white heads as it may cause scarring on your skin. To minimize damager use our professional black/white head extractor, this brand new tool is the safest way to clear pores. It is less traumatic to the surrounding skin than squeezing which reduces risk of scarring.

Features: 9cm Length Seated handle for a firm grip Comes in coloured pouch

Instructions: How to Use: It is recommended that you clean your skin with cotton and alcohol before and after extractions to avoid infections. Using this product after a shower is ideal. Simply place the loop end over the top of the blackhead and gently press. If need be, use the pointed end to gently tease the black/white head out. For Best Results: The best time to remove black/white heads is immediately after showering Or place a warm face cloth over your face for about one minute as the steam opens up your pores Simply place the loop end over the top of the black/white head and gently press, it should pop out easily If it is a little stubborn use the needle and carefully scratch the surface of your skin Benefits: Effective on the face and all other parts of the body Fantastic value for money - can be used over and over again Safely removes black/white heads quickly and easily - no fuss! This tool enables you to stay spot free for life Notice: Always clean your skin before extractions and afterwards to avoid infections. Clean tool with cotton & alcohol before or after use. .................................................................................... We are a UK based company committed to customer service.

Payment: We require immediate payment via PayPal

Shipping: We offer FREE shipping on all items within the UK! Your item will be carefully packed and dispatched within 24 hours (Mon.-Fri.) of receiving payment. Most items will be posted out the same day if payment is received before 4 pm.

Returns: If you are not happy with your item please return in the original packaging and with all tags attached within 14 days. Goods must be returned carriage paid. Refund of purchase price will be refunded by the same method as the payment was made. Postage and packaging will not be refunded. If your item is faulty or we have sent you something different to what you ordered, again please return it to us within 14 days and we will give you a full refund or replacement. Including postage and packaging. Please contact us before returning an item so that we know the problem so we can work quickly and efficiently to resolve it.