Collect 37k Avios Airmiles. Amex American Express Platinum Card Referral Code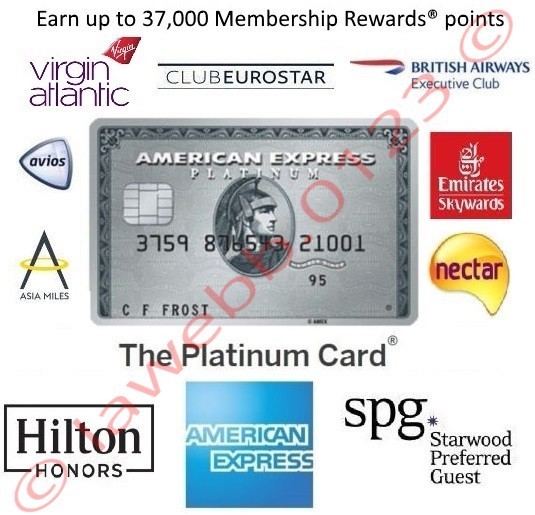 ** Please read this listing fully before purchasing including the 'Eligibility', 'How it Works' and 'Terms of Business' sections **

** Please do not copy any part of this listing or its watermarked picture **

This sale is for an application referral code for the American Express® Platinum Charge Card. This personal referral code allows you to benefit from an enhanced welcome bonus of 35,000 Membership Rewards® points. Applicants with a referral code achieve a higher bonus hence the benefit of this application referral code. Please read on to see what you can achieve with the 37,000 Membership Rewards® points.

To be clear, this listing is for an application referral code and you are required to make a successful application to American Express® for their Platinum Charge Card. You are not buying anything other than the application referral code. The remainder of this listing details the benefits of American Express Membership Rewards® Points, in particularly, how you can transfer them to Avios frequent flyer Airmiles which you can currently use with 33 Airlines.

By successfully signing up for the American Express® Platinum Charge Card with this referral code, you can subsequently earn 37,000 British Airways Avios points, Virgin Flying Club miles or many other / hotel reward scheme points by triggering the enhanced welcome bonus the card offers. This level of welcome bonus is not achievable if you apply directly via American Express®.

With the American Express® Platinum charge card you earn 1 Membership Rewards® point per £1 spent on the card. You can then transfer your points to 12 major frequent flyer and 3 hotel programmes. By applying with this referral code you will earn 35,000 bonus Membership Rewards® points as soon as you activate the sign up bonus by spending £2,000 in your first three months of card membership. The £2,000 spend on the card will also earn you another 2,000 Membership Rewards® points. Please note that the there is a £450 annual fee for the Amex Platinum Charge Card. This is refundable pro rata if you cancel at any point. You can cancel as soon as you receive your sign up bonus and get a refund of the remaining months fees.



** 100% of the money you pay for this referral is donated to Macmillan Cancer Support **

That will give you a total of between 37,000 Membership Rewards® points, enough for a return flight on British Airways from London destinations including Las Vegas, Miami, Dubai, Abu Dhabi, New York, Johannesburg, Orlando, Tobago, Lanzarote, Boston, New Delhi, Mumbai, Calgary, Nairobi, Amsterdam, Ibiza, Oslo or Venice. Terms, taxes, fees and charges apply although the fees for most destinations within Europe flying with British Airways from London are capped with the 'Reward Flight Saver' at £35 return.

More about The Amex Platinum Charge Card and its benefits

Earn Membership Rewards® points almost every time you use your card and redeem them for a wide range of exciting rewards. Here's what you could look forward to earning:



One Membership Rewards point for virtually every £1 spent on your CardOne additional Membership Rewards point for virtually every £1 spent directly with airlinesOne additional Membership Rewards point for virtually every equivalent £1 spent in a foreign currencyTwo additional Membership Rewards points for virtually every £1 spent at amextravel.co.ukShare the benefits with up to five complimentary Supplementary Cards with no annual fee (one Platinum and a combination of up to four Gold or Green Cards.Your dedicated Platinum Concierge service can take care of your travel and lifestyle plans such as your next travel adventure, dinner reservations and tickets to sold out shows.Comprehensive worldwide travel insurance benefits for you, your immediate family, your Supplementary Card members and their immediate family, from the moment you book with your Card.Relax in an oasis of calm with complimentary access to airport lounges globally, including access to over 900 Priority Pass™ lounges for you and a guest in 120 countries around the world. Complimentary membership of elite car hire loyalty programmes bringing added benefits, including Hertz Gold Plus Rewards® Five Star. When renting a car abroad, the theft, damage and liability additional / optional car rental insurance is covered for up to £50,000 under the Platinum Insurance benefits.With our signature hotel programme, you can look forward to exclusive benefits with every stay at one of over 900 hand-picked Fine Hotels & Resorts around the world whether it's guaranteed late check-out, a complimentary room upgrade if available or any number of other complimentary extras. Enrol directly into higher tiers or leading loyalty programmes such as Hilton HHonors™ and Starwood Preferred® Guest.Gap year cover for you and your Supplementary Card member's children. We will give them the full Platinum insurance benefits up to 365 consecutive days at no additional cost, giving you that added peace of mind (children must be under 25, between education and full time employment). Please note that Terms and Conditions apply to all of the above insurance cover. Purchase Protection - if you bought something with your card that's stolen or damaged within 90 days , we'll replace or repair it, or refund you up to £2,500 per eligible items and even Refund Protection for up to £300 on Card purchases from UK retailers. Make your next night out a memorable one with American Express Invites, enjoy access to some of the most in-demand music, film and theatre events in townReceive emergency advice 24/7, virtually wherever you are in the world.Restaurants- Exclusive benefits at over 200 restaurants worldwide from Michelin-starred hotspots to hidden gems. At each restaurant you can look forward to something extra on the menu- such as an opportunity to meet the chef when you dine. Platinum Events - From private viewings at art galleries to wine tastings, you'll be invited to a number of exclusive Platinum events.

EligibilityTo save time before purchasing this application referral code, it's best to make sure you can say yes to the following. You are aged 18 or overYou have a current UK bank or building society accountYou have a permanent UK home addressYou have no history of bad debtYou understand you will not be eligible for the Welcome Bonus if you hold or have held within the past six months any Membership Rewards® enrolled American Express Card

How it WorksPurchase this listing and I will email you your personal application referral codeWhen you pay via PayPal, use the 'add message to seller' option and leave your email addressI will email you the referred application details for the American Express® Platinum Charge Card to the email address you provide via PayPal within 24 hoursYou must apply for the card as described in my email. You will see the 'referred' 35,000 Membership Rewards® points detailed on the landing page during the application process

Once you have been accepted for the card you need to achieve the welcome bonus by ensuring you spend £2,000 on the card within the first 3 monthsYou will receive the bonus Membership Rewards® points from Amex as soon as the £2,000 has been spentYou then transfer these into your chosen reward such as British Airways Avios, Virgin Atlantic Flying Club Miles or Emirates Skywards Miles Please do not copy any part of this listing or its picturesIt's worth considering keeping your membership points within your Amex rewards account if you do not require them in a certain scheme straight away as there are sometimes redemption offers that may allow you to gain more of your chosen points. For example, a 20% bonus when transferring your Membership Rewards® points into Avios or Virgin Flying Club milesTerms of Purchase

Please note the following points prior to purchasing this referral:You must read the eligibility section above before purchasingI am not responsible if you are unsuccessful in your application for the American Express® Platinum Charge Card. I have no control over this decisionYou are purchasing a referral code from me, not Membership Rewards® points or Avios etc. My requirement of this sale is to email you the referral code to allow you to apply for the American Express® Platinum Charge Card with the enhanced referred welcome bonus

You must remember to provide me with your email address as described above, without it I cannot provide the referral code

The Membership Rewards® points will only be awarded to you if you are successful in your application for the American Express® Platinum Charge Card using this referral code and you spend the required £2,000 on the charge card within the first 3 months of card ownership Any questions, please don't hesitate to ask.