Clear Cello Display Bags Self Seal - For Cards / Prints / Sweet Candy Cellophane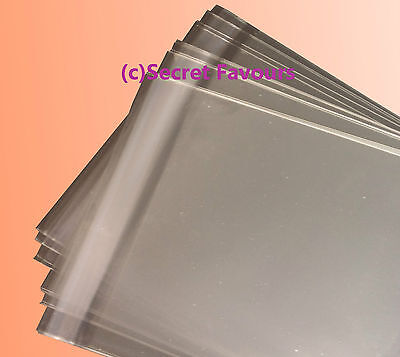 Sticky Self Seal Cello Display Bagsfor Greeting Cards, Prints, etc



We have been selling Cellophane Bags for many years now with many happy customers, buy from us with 100% confidence!

If you are not quite sure a specific size will do, just send us a message through eBay and we will be more than happy to look through your requirements and advise the best size of cello bag you need!



✓ Top Quality BOPP Material Crystal Clear

✓ 30 Microns in thickness

✓ Sticky Self Adhesive Seal Flap

✓ Choose from over 30 sizes!

↓↓ Please check out our sizes below ↓↓ SizeWidth x LengthThickness SizeWidth x LengthThicknessA1602mm x 843mm40 Microns 14" x 18"363mm x 457mm40 MicronsB2508mm x 707mm40 Microns 12" x 16"313mm x 407mm40 MicronsA2428mm x 592mm40 Microns 11" x 14"288mm x 356mm40 MicronsA3+335mm x 482mm35 Microns 10" x 12"262mm x 305mm40 MicronsA3305mm x 420mm35 Microns 10" x 10"262mm x 254mm40 MicronsC4234mm x 324mm40 Microns 9" x 9"238mm x 230mm40 MicronsA4220mm x 297mm35 Microns 8" x 10"254mm x 211mm40 MicronsC5167mm x 230mm30 Microns 8" x 8"211mm x 203mm30 MicronsA5157mm x 210mm30 Microns 7" x 7"185mm x 177mm30 MicronsC6120mm x 162mm30 Microns 6.5" x 6.5"168mm x 165mm30 MicronsC787mm x 113mm30 Microns 6" x 6"160mm x 155mm30 MicronsDL115mm x 220mm30 Microns 5.75" x 5.75"155mm x 150mm30 MicronsBookmark65mm x 220mm30 Microns 5.5" x 5.5"145mm x 140mm30 Microns5" x 7" (7X5)138mm x 185mm30 Microns 5" x 5"135mm x 135mm30 Microns 4.5" x 4.5"119mm x 114mm30 Microns 4" x 4"110mm x 105mm30 Microns(Please note: All bags are packed flat with the exception of the following that will be folded for posting: A1, B2, A2, A3+, A3, C4, 14x18, 12x16, 11x14, 10x12)

Cleared payment should be received within 7 working days of purchase



Postage is Free by Royal Mail 2nd Class or can be upgraded for an additional fee on checkout.

Delivery Estimates:

Royal Mail 2nd Class = 2 - 3 Working Days

Royal Mail 1st Class = 1 - 2 Working Days

(Please note Royal Mail wont class a package has lost until 5 working days have passed from date of dispatch)

If you have any questions feel free to drop us a line either through eBay using the "Ask a question" button within this listing



If for any reason, you're not entirely satisfied with your item, please contact us. We will always strive to resolve any issues you may have. We accept returns of non-customised items within 30 days from the date of purchase.Please ensure any returned items are sent retaining a Free Proof of Postage Receipt to the returns address on the package and not within our contact us section. We are unable to exchange items or offer refunds until the return has been physically delivered back to us.