4/6/10 Way Fusebox 1 Power In LED Light Blade Fuse Box Fuseholder Marine Car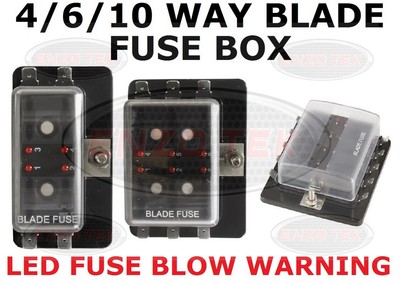 1 POWER 4/6 WAY FUSE BOX



THESE FUSE BOXES ARE SUITABLE FOR MARINE, AUTOMOTIVE, CARAVAN, KIT CARS, VANS, FORKLIFTS, PLANT MACHINERY APPLICATIONS ETC WITH THE FOLLOWING VOLTAGES: 6V, 12V, & 24V (MAXIMUM 32V)



INPUT: 100 AMP MAX PER UNIT/FUSE BOX

OUTPUT: 30 AMP MAX PER FUSE



1X 5MM POSITIVE POWER INPUT STUD



A RED LED WILL ILLUMINATE WHEN FUSE HAS BLOWN.



SIZE DIMENSIONS

4 WAY - 35MM(H) X 45MM(W) X 85MM(D)

6 WAY - 35MM(H) X 65MM(W) X 85MM(D)10 WAY - 35MM(H) X 95MM(W) X 85MM(D)



PLEASE NOTE: PICTURES ARE FOR VISUAL PURPOSES ONLY. YOU WILL GET THE DESCRIBED PRODUCT. FREE UK DELIVERY.FAST DISPATCH.