Colour Wooden Name Train Letters Personalised Name Train as Children Baby Gift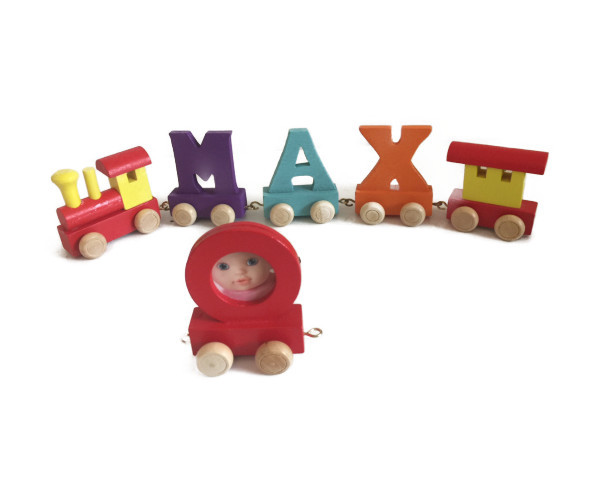 If you are on a mobile phone, iPad, or tablet, please order in this listing http://www.ebay.co.uk/itm/262160649281 to avoid surcharge.



Important Information

Most of the train letters have only one colour as advertised and pictures. Few letters have 2 colours. To better suit customers' need, we will do our best mix the colours and make the whole name more colourful. If you require the colour of letter are exactly as displayed in product picture, please let us know. Otherwise, we believe you understand you are agreed to let us mix. Thanks for your understanding.



Order Instruction

Select a letter from the drop downclick the "add to basket" buttonSelect another letter from the drop down, and click the "add to basket" button, repeat the step until you select all the letters you need.Select the train engine and the wagon (Optional)Select the railway track for extra fun (optional) - the track is compatible with Brio, Bigjig trains & track. Click the "Basket" button on the top-right corner of the page to see all your orders

Click the "Check Out" button to check outImportant notice:please check out all your letters in one transaction, a surcharge of 0.20 GBP extra will be added for each letter if letters are paid separately. In case of using the ebay application on iPad, iPhone, or other mobile device where the "add basket" option is not available, please buy all letters from this listing http://www.ebay.co.uk/itm/262160649281. Thanks very much for your understanding and cooperation. Product Information

These natural wood letters are perfect for personalized name, bed room decorations, early alphabet education, and gifts.

Both entertaining, and fun for all ages these train letters are made from carefully sourced material and in its natural condition. The whole manufacture process is strictly under child safety instructions.Trains are linked via a metal hook and loop system.One colour for one letter - the colour for letters cannot be repainted. Photo trains: you need to crop and add the picture into the train.Having the train-set is Guaranteed to bring a smile on any child's face

Approximately 7cm in length and 6cm in height for each letter.Trains are made of natural wood and non-tonix painting.

Prices are per piece, Minimum 6 pieces to qualify for free delivery in the UK. Less than 6 pieces would incur 3.00 GBP postage.

Why buy from us?
Buy with confidence: We are fully responsible for your orders, and your orders are insured up to £20.00 GBP. In case items are lost/damaged during delivery, it's on us.



All about education: Products we sell are not only for fun, but also aim to improve one particular skill of the children. Your children' early education starts from playing toys.

Support: We are dedicated to provide the first class customer service and try our best to meet the requirements of our customers.

Best Cost-effective: High Quality, Low Price. All our products are from the well-known brands, and Our price are up to 30% lower than the high street retail price without compromising the quality.

Rapid Delivery: We are very proud of our delivery speed. Your item usually will be dispatched in the next working day as soon as the payment is cleared.


Delivery Information

Default Free delivery: the default delivery option is Royal mail 1st or 2nd class, which takes 1-2 working days for 1st class and 3-5 working days for 2nd class. Both of them do not have tracking information.



Upgraded Recorded Delivery: We recommend you to pay a small fee to use a better and safer service if you wish your items arrive in time safely. The service usually takes 1-3 working days to delivery. The recorded service offers a tracking number for you to track where are your items.



Express special delivery: It offers a guaranteed next day delivery with a tracking number. Delivery in Saturday may subject to a surcharge.



Delayed delivery: We use Royal mail service by default. Royal mail generally provides a good and fast service. However there is small chance that your items may be delayed or lost during delivery. Please contact us if the item failed to delivery after 2 weeks of your payment.



Tips: Allow sufficient times for the item to delivery under the delivery options you choose. If you need your items within 2 weeks, the default 2nd class delivery is fine. If you need your items within 1 weeks, please use 1st class delivery. If you need your items in next day, please use express special delivery. By giving sufficient delivery time, not only help you receive your items on time, but also give us a little buffer time to offer second-delivery in case the items are lost/delayed.



Claims & Compensations

We understand it's a pain when your items are delayed or lost, and buyers prefer to open a case on eBay to claim the compensation. Most of buyers were asking for the tracking information even they know they didn't use the recorded service. We do appreciate if you can communicate to us first and we usually replied all our messages in 24 hours.

If indeed you failed to receive the items after 2 weeks of your payment, we can either re-send your items (subject to stock availability) or issue the full refund.


Our Guarantee

No quibble & No fuss. If you are unhappy with your purchase within 7 days of the receipt, we are happy to issue a refund as long as the item is in its original condition (box unopened, item unused and undamaged). Postage will not refund in this case.



Return Postage Reimbursed: If the item you received has quality issue or wrong items were sent by mistake.