A4 Reusable Behaviour Girls Unicorn Reward Chart free Stickers & pen, MAGNETIC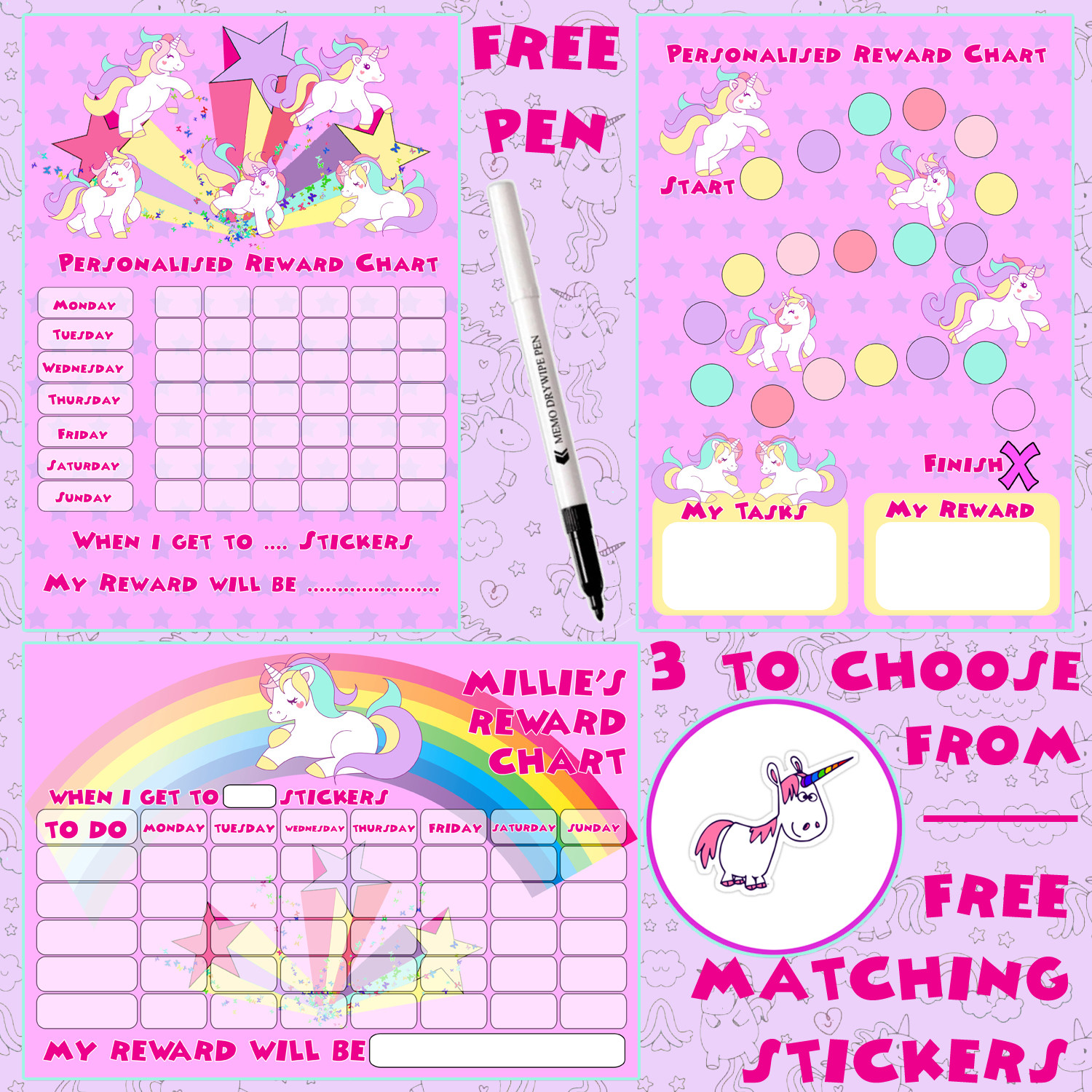 Children's Personalised Reward chart with Free Matching stickers and Pen. Magnetic Backed option available. Description The item that you are looking at is a High quality Digital printed reusable reward chart that can be personalised with the name of your choice, laminated using high quality lamination pouches and supplied with a dry wipe pen and supplied with some character stickers that will match the style of the chart. I am currently the only one offering matching stickers and these are also all designed and printed by me. As this has been laminated it can be wiped clean with a damp cloth and used again and again. It doesnt have to say reward chart, if you want it to say anything else i.e. TV Chart, Toilet Chart, Tidy Chart, potty training chart etc. the uses are endless!. Please let me know and I can change this at the point of printing. Reward charts are a great way to teach your child right from wrong and also for controlling unruly behaviour (because who doesnt like rewards??) I use these personally for my child so I can honestly stand by my product and say that they work. They are great to use for potty training, keeping a room tidy, sticking to a daily routine, or simply getting your children to go to bed on time and stay there! Reward charts are a medically recognised product that can also help with Autism, ADHD, learning and behaviour difficulties etc. PERSONALISATION This item can be easily personalised with the name of your child, please leave me a note at check out or send me a message within 24 hours of sale with this information. If this information has not been supplied your order will be shipped with a space for you to write the name in with the supplied pen. This is a multiple item sale so please make sure you are choosing the item that is right for you.The 0.99p option is for a single packet of stickers (42 minimum) if you buy 3 packs you will get 2 freeThe 3.29 option is for a card backed laminated reward chart with 1 packet of stickers (42 minimum) and 1 dry wipe pen. this option is great for sticking to a wall etc.The 4.99 option is for a fully magnetic backed reward chart (not adhesive magnetic strips) laminated and supplied with 2 packets of stickers (84 minimum) and a dry wipe pen. this can be stuck directly to the fridge or radiator etc.Any questions, Queries or design requests please feel free to contact me. About Us I am a small independent printer who has been in the multimedia industry for over 14 years. We only use the latest in Digital inkjet print technology with a 6 ink system for lab quality pictures on the highest print settings and on high quality glossy paper., we only use the best quality ink to print your item and I would not ship any item that I would not be happy receiving for my own children. I pride myself on my customer services and if you have any issue with the item you have received please let me know and it will be dealt with in the fastest and most professional manner. Postage All items will be shipped in a postage bag via royal mail second class, due to the nature of personalised items being made to order they may arrive a day or 2 later than eBay quotes but its very rare for them to arrive after this time. In the unlikely event that you have not received your item within 14 days of placing your order please let me know (im sure you will have already done that by this point) and we can sort something out for you. Design Requests Please check out my store to see the other designs i have on offer and if you dont see the design or your childs favourite theme just let me know and I can put something together for you. Design requests are usually completed withing 24/48 hours.

Thank you for looking.