Free Fabric Samples for Ercol Daybed & any Replacement Cushions + £5 voucher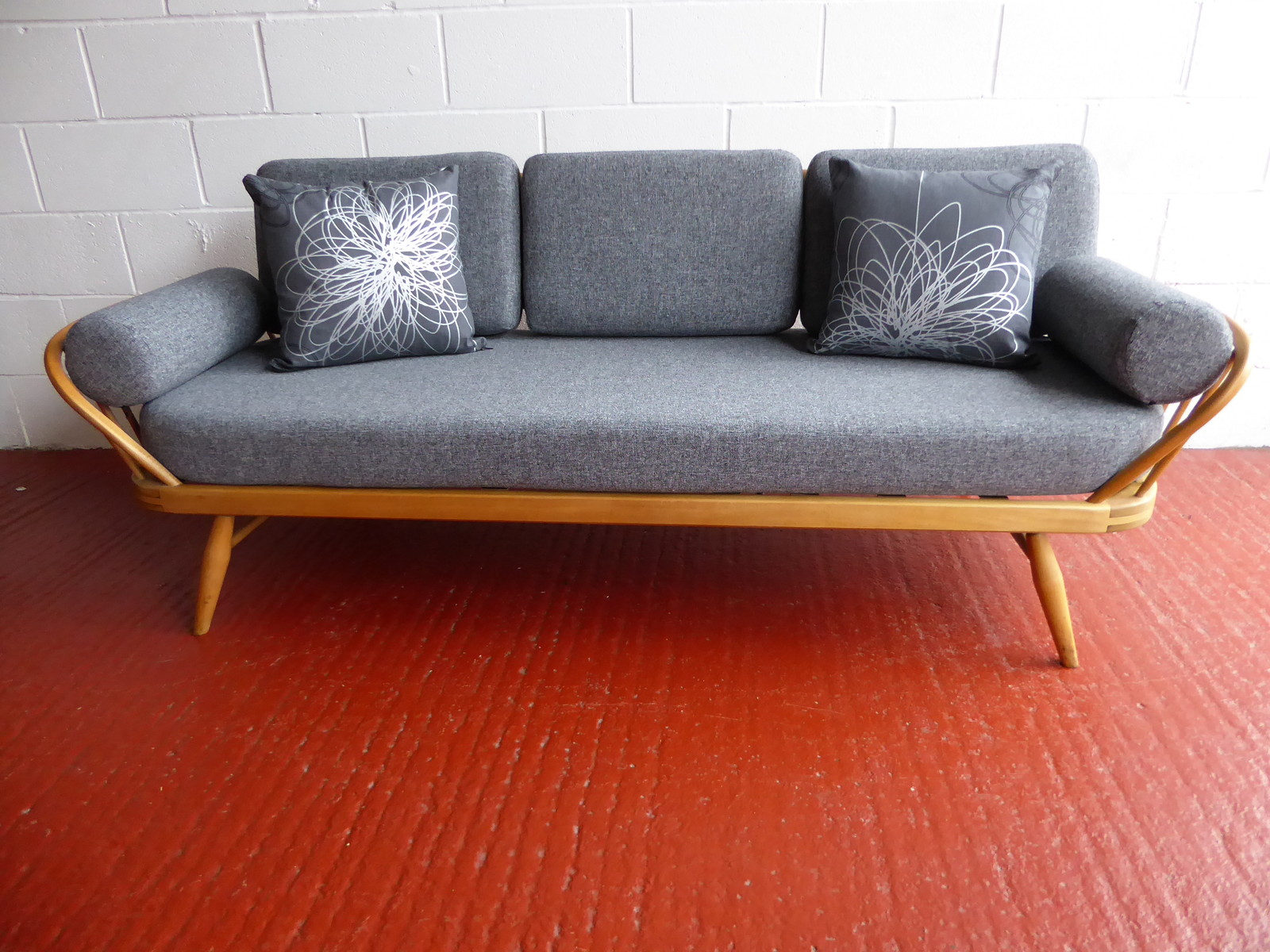 This offer available in the usual 3 different greys from the Bradbury Pyra Range. Light Grey, Mid Grey (as daybed picture) and Charcoal + two grey chenilles. We also have the Post Box Red in stock. + hundreds of other shades and patterns.If you only want fabrics of a particular colour or style ( colour eg green, red, blue etc, or style eg check, stripe, tartan etc) please send us a note thro' eBay.We have 3 colours in the Porter and Stone Balmoral Range. (Heather, Dove Grey and Ruby).If you want any of the other colours simply ask by email or phone, just tell us your colour preferences.We can't actually give away stuff on eBay because of course they need their cut! (In this case it's only £0.26). You will see that all proceeds are going to Jo's Cervical Cancer Trust (no big deal, it's only 99p!) However it is a way for you to choose a fabric to possibly have your treasured Ercol furniture recovered soon, plus it helps a little in the research into this awful disease. In addition of course we can cover any cushions for any other furniture.What do you get out of it? free samples + a £5.00 voucher to deduct from any purchase of Ercol cushions and covers.This also applies even if you send us your own fabric for us to make your covers.................ask for a free quote for any Ercol Model.Many of the 203 and Daybed colours are already in stock so next day delivery is normal for these. If not in stock please allow 7 - 10 days.

To see many more of our Ercol styles and models in a variety of colours please see our Ebay profile. Scroll down to our collections. It's worth following us there. We are continuously growing the site and adding more and more models & colours all the time. You may not want only these grey fabric samples, simply tell us which colour samples you prefer, they all come free of charge.Click here and then scroll down…. http://www.ebay.co.uk/usr/safefoamWorth a mention…………please don't ask us for covers only, we sell foam cushions, or foam cushions with our own covers. This way we are sure that they will fit. For covers only we recommend Plumbs in Preston, or indeed Ercol themselves. However it makes more sense to do what a lot of our customers do, buy our stuff and sell what you have left on Ebay.





See below some of our latest feedback for Ercol cushions.

"Great item, as described, good communication, thanks"

"Quality product, quality service, speediest delivery - great seller A+++++!!!!!"

"Thanks for great service and prompt delivery. Very pleased with my bargain."

We're very pleased with product and delivery, and for pre-sale advice, thanks

Excellent item. Perfect service and wonderful quality. Thanks

Wow! Better than Ercol's. Fast Delivery. Quality is obvious. So happy 5* :-)

Stunning

Great product, accurately described - wholeheartedly recommend seller

Brilliant seller!!! Just like the photo. A++++++

Nice product and speedy delivery. Thank you.

Very nice people to do business with, highly recommended

Really pleased with cushion covers, they look great on my Ercol 203 chair. Thx

Excellent. Prompt x

Great item and all arranged easily. Highly recommend seller.