Xbox LIVE 48 Hours 2 Days Trial Gold Membership For Microsoft Xbox One Xbox 360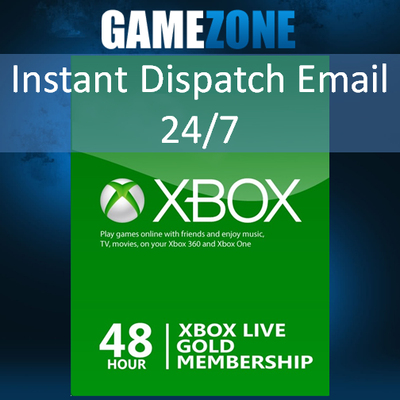 eBay Satisfaction guarantee or your money back 48 Hours Xbox Live Trial Is for Xbox Live Key Platform Xbox 360 / Xbox One For 2 Days Language English Genre n/a Where do I activate the game? United Kingdom & Worldwide The product you purchase is only an activation code. This is completely sufficient and legal to download the product from official servers. How do I receive my order? 1. Buy and pay for the item. 2. Open up the eBay message sent from us. 3. Follow the instructions. 4. Receive the code and activate it on the specific platform. Customer Support If you have any problem with the activation / questions. Please contact us by eBay message we are here to help you and will do our best to answer as soon as possible!



Instant Delivery - In Stock Product Description Xbox Live unites gamers across Xbox One and Xbox 360, so you can play with friends and connect with a massive community of players. Stay on top of all the action, see what your friends are playing, follow your favorite games, start a party chat, and check out what's trending. And take your games and friends with you, everywhere you go.Free games with Gold is not available with trial membership.If you currently have membership left on your profile you must wait for it to expire before you can use this.

How to activate the game 1 Enter Xbox Live site 2 Log in to your account. 3 On the next page, click "Redeem" 4 Enter your code and click "Confirm" 5 Click confirm again to add the code with your account Founded in 2011 we have been on eBay for long time. Our innovative platform offers wide range of products such as software activation licenses for Steam, Origin, Xbox Live, PSN at lowest possible prices. We are a trusted company aiming to provide our customers fast and efficient service.