GENUINE PARKER Quink Ink Refills JOTTER / ROLLERBALL / FOUNTAIN PEN Black / Blue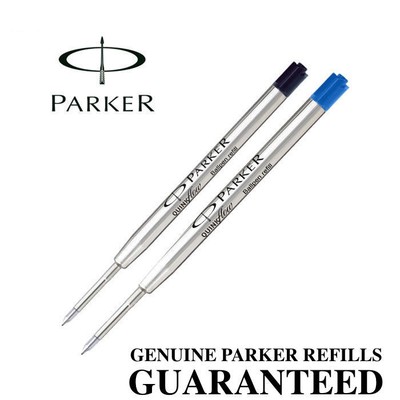 SPECIAL OFFER!10 X BLACK FINE JOTTER REFILLS ONLY £9.9910 X BLUE FINE JOTTER REFILLS ONLY £9.99(SCROLL TO THE BOTTOM OF THE DROP-DOWN MENU FOR THE OFFER!)GENUINE PARKER REFILLSFOR PARKER JOTTER, ROLLERBALL OR FOUNTAIN PENSBLACK OR BLUE



CHOOSE FROM DROP-DOWN MENUWHOLESALE PRICEFREE UK DELIVERY / DELIVERED WORLDWIDE

REFILLS ARE AVAILABLE IN 0.8MM FINE AND 1.0MM MEDIUM1.0MM MEDIUM NIBS SENT AS STANDARD UNLESS ADVERTISED AS FINEIF YOU WISH TO HAVE FINE OR A MIXTURE OF FINE AND MEDIUM NIBSIN THE COLOUR YOU HAVE CHOSEN THEN PLEASE LEAVE A MESSAGE THROUGH EBAY MESSAGES.

FOR RETAIL BLISTER PACKS AND PARKER PENSCLICK 'PARKER PENS / REFILLS'ON THE LEFT UNDER 'SHOP HOME'PARKER REFILLS ARE OFFICIALLY MADE UNDER LICENSE FROM PARKER

NEW ROLLERBALL NAVIGATOR AND ULTRA FINE REFILLS!ULTRA fine BLACK OR BLUE £3.49 EACHFINE 0.5MM OR MEDIUM 0.7MM BLACK OR BLUE £2.99 EACHROLLERBAL NAVIGATORS SENT IN RETAIL BLISTER PACKS AS SEEN IN PICTURE

NEW FOUNTAIN PEN REFILL CARTRIDGES AVAILABLE IN BLACK OR BLUESCROLL TO THE BOTTOM OF THE DROP-DOWN MENU FOR FOUNTAIN PEN REFILLS!