XBOX LIVE 48 HOUR 2 DAYS GOLD TRIAL CODE 48HR - INSTANT DISPATCH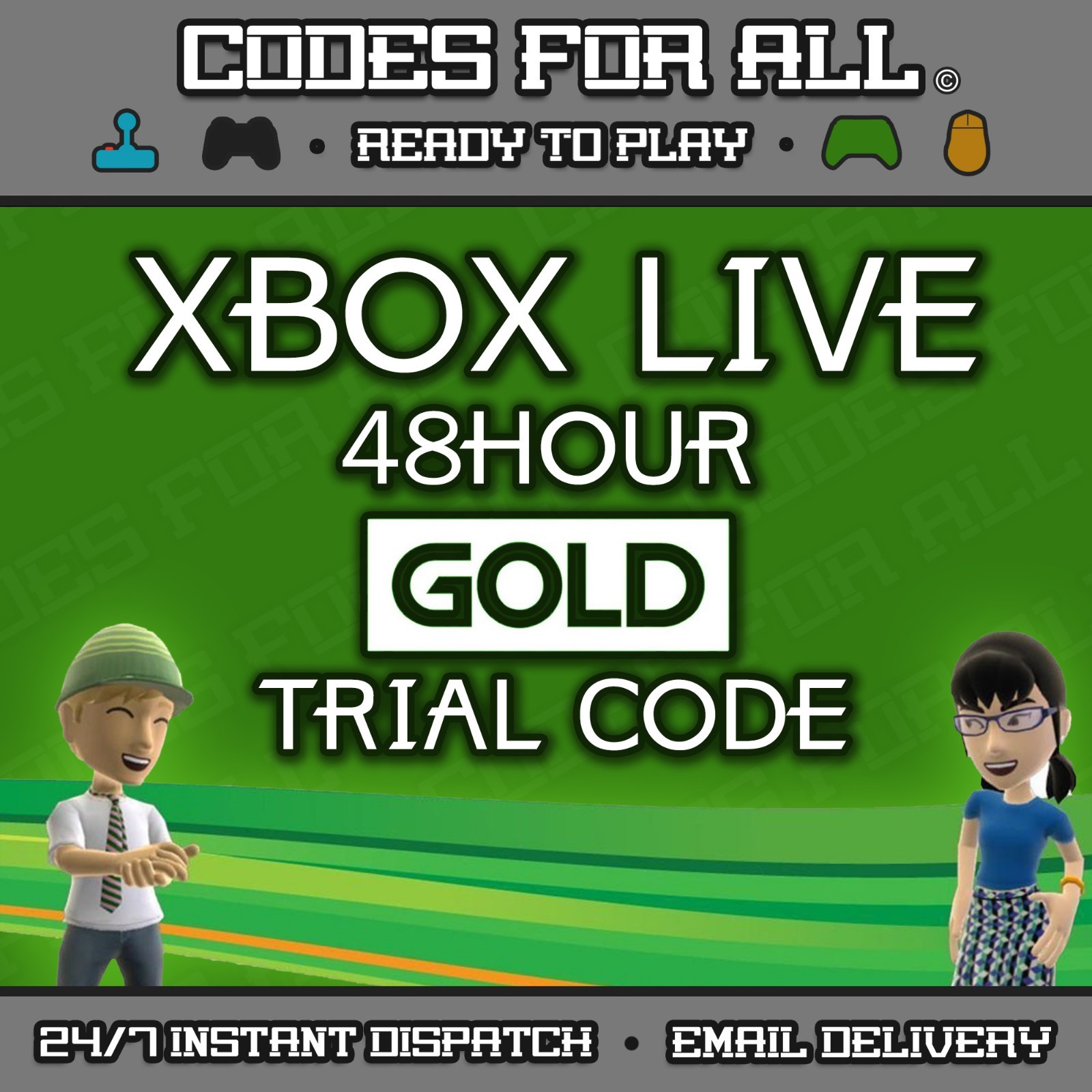 Xbox Live 48 HOUR GOLD Trial Code for Xbox 360 or Xbox One

Email DeliveryUpdate your email address on eBay and PayPal BEFORE YOU BUYto ensure its delivered to the correct email address.

WE WILL ONLY SEND CODES TO YOUR "PRIMARY" EMAIL ADDRESS THAT IS LINKED TO YOUR EBAY OR PAYPAL ACCOUNT DEPENDING ON PAYMENT METHOD.

(MAKE SURE THE CORRECT EMAIL IS SET TO PRIMARY BEFORE MAKING THE PURCHASE)

WE NO LONGER SEND VIA EBAY MESSAGE DUE TO THE MASSIVE INCREASE OF EBAY ACCOUNTS BEING HACKED.

ANY ACTS OF FRAUD WILL BE REPORTED TO EBAY, PAYPAL AND THE FRAUD PREVENTION AGENCY IMMEDIATLY

LimitationsYou cannot use these codes if:You currently have gold (wait for gold to expire then use)You are currently using a trial (wait for trial to expire then use)You have an outstanding balance on your account (your account status will show as suspended, you will need to pay that balance first before you can use it)A REFUND WILL NOT BE GIVEN FOR ANY OF THE REASONS ABOVE, AS THEY ARE THE REASON YOU CANNOT USE IT, IT HAS NOTHING TO DO WITH THE CODE ITSELF.THE CODES DO NOT STACK, YOU CAN ONLY USE 1 CODE AT A TIMEDO NOT USE MULTIPLE CODES AT ONCEWAIT FOR EACH CODE TO EXPIRE BEFORE USING ANOTHER

The code allows you to have some of the benefits of gold accounts including: Joining party's, playing online multiplayer!(YOU WILL NOT GET GAMES FOR GOLD OR OTHER GAME DISCOUNTS OR ACCESS TO THE CLOUD STORAGE)

The code will not turn your account into gold, you will still remain a silver member but have the benefits of gold stated above. The codes can only be redeemed on a silver account. If you already have an Xbox live gold membership you will have to wait for it to expire before redeeming the new code otherwise it will give you the ''Invalid code'' error.The codes will not show in your subscription page as they are only a trial, and they will not appear in your account purchase history either, as they are not something you can buy on the xbox store.



SUPER FAST DELIVERYInstant dispatch!!I am the legal owner of this content as I purchased the physical item and have these to hand.All of our listings are physical products, regardless of whether they are activated digitally.

In addition to sending this item electronically, we will also be mailing you this item via regular post.

This listing complies with eBay's digital goods policy. We have consulted eBay support regarding potential issues.

Genuine & AuthenticatedPhysical StockThese are individual codes for sale, not copies or split bundles of licenses.

All product names, logos, and brands are property of their respective owners. All company, product and service names used in this listing are for identification purposes only. Use of these names, logos, and brands does not imply endorsement.