AUTOMOTIVE 12V 24V 2 CORE TWIN THINWALL RED/BLACK AUTO CABLE WIRE WIRING LOOM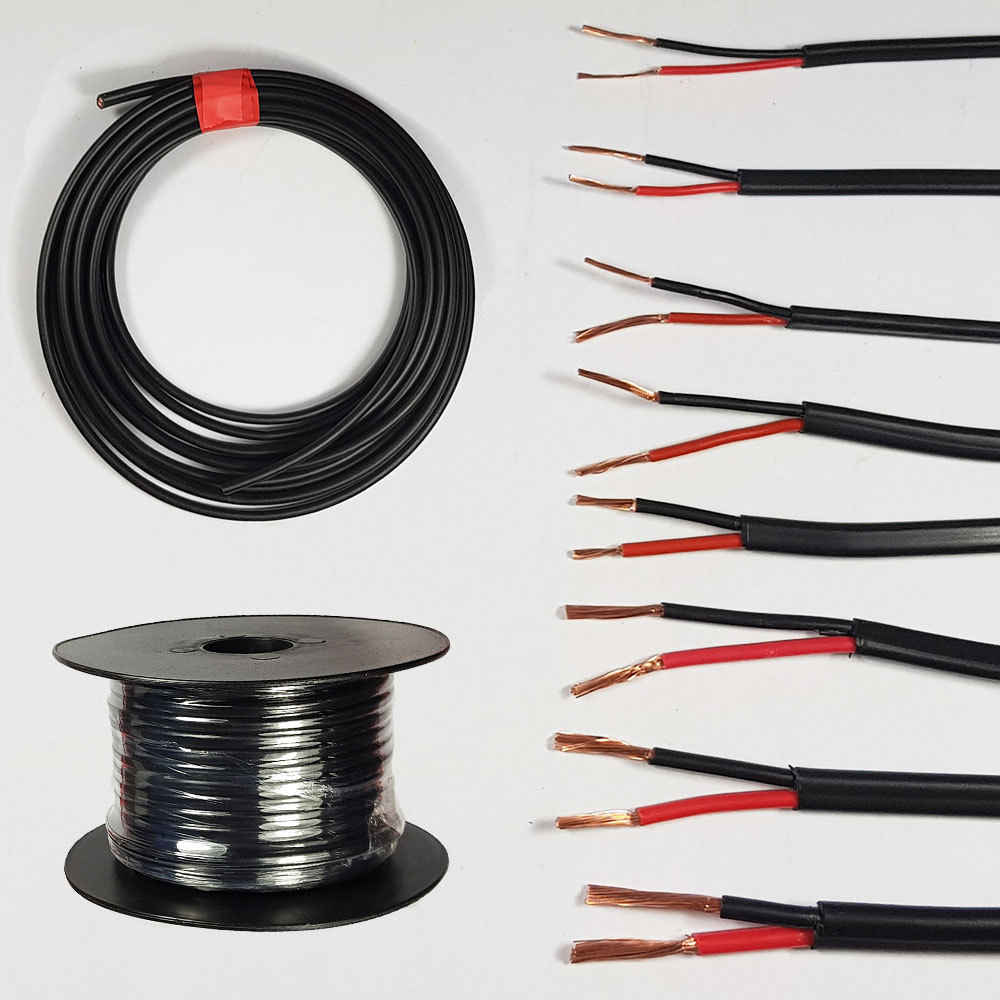 Thin Wall Twin Core Automotive Cable ALL CABLE IS CUT / WOUND TO YOUR CUSTOM LENGTH AS REQUESTED

AND IS NON RETURNABLE UNDER THE CONSUMER RIGHTS ACT.This cable is in many ways the more modern and technically advanced version of the Standard P.V.C BS6862 cables.Thin Wall cables are high temperature, low voltage for usage in the automotive, marine and other industries.Lighter, takes up less space and in most ways out performs it's predecessor.- Hard Grade Thermoplastic P.V.C Lead Free Insulation, according to ISO 6722 Class B- Plain copper conductor, C-EPT1, According to EN 13602, Conductor according to ISO 6722/ LV112 Type B- Generally for use at -40°C to +105°C with excursions up to +120°C - 12 & 24v systems (MAX 60v).- Resistant to petrol, lubricating oils and diluted acids.- More commonly found in vehicles post 1995.

Terminals Suited to This Cable Are Available HerePart CodeStrandingConductor (mm²)Nominal Current Rating (Amps)Maximum Overall Diameter (mm)Sheath ColourCore ColoursTTW0.52 x 16/0.202 x 0.511.03.5 x 5.5Black Black/RedTTW0.752 x 24/0.202 x 0.7514.03.5 x 5.5BlackTTW1.02 x 32/0.202 x 1.016.53.0 x 5.0BlackTTW1.52 x 21/0.302 x 1.521.03.4 x 5.7BlackTTW2.02 x 28/0.302 x 2.025.03.5 x 6.1BlackTTW2.52 x 35/0.302 x 2.529.03.8 x 6.6BlackTTW3.02 x 44/0.302 x 3.033.04.4 x 7.6BlackTTW4.52 x 65/0.302 x 4.542.05.7 x 9.5BlackALL CABLE IS CUT / WOUND TO YOUR CUSTOM LENGTH AS REQUESTED

AND IS NON RETURNABLE UNDER THE CONSUMER RIGHTS ACT.Delivery We operate a dispatch policy to ensure your parcel will be processed within 24 hours.Business hours: Monday - Friday 9am - 5pmEstimated delivery via Royal Mail is 3-5 working days. Returns Faulty goods will be replaced once we receive them back or money will be refunded. However, we must be advised of any faulty goods within 14 days of purchase.Return postage is non refundable, however, if the item is found to be faulty, we will then release a full refund for this when presented with proof of postage.If there is any query or problem with your order/delivery and you are in any way dissatisfied, before leaving neutral or negative feedback, please contact us to allow us the opportunity to resolve the issue. We want you, the customer, to be 100% satisfied with your purchase, so please remember to contact us first with any related issues.