Renault stereo radio unlock code QUICK !! Clio Megane Kangoo Laguna Modus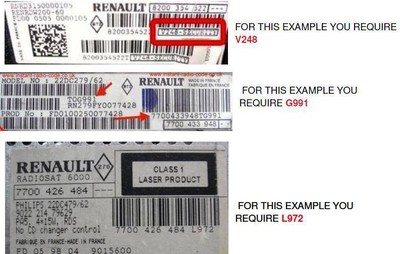 RENAULT STEREO/RADIO UNLOCK CODE, VERY QUICK RESPONSE !!

Why Pay Renault £15 for unlock code and have to supply your vehicle documentation just to get your code for your car stereo just because you've had a flat battery or had to fit a new battery !!

Renault dealerships charge up to £15 to recode stereo after fitting a battery that you've supplied !

All i need from you is the serial number of your radio which is usually on the side or at the back of the radio. We need the serial number STARTS WITH 1 LETTER THEN 3 NUMBERS (SEE PHOTO) to be able to supply the unlock code. (AS SEEN IN THE PICTURE ABOVE)Message me with your serial numberI will message you straight back, with your unlock code, and if required , instructions on how to use.

I will get the code to you usually within 5-10mins, tho if I am driving it can be a little longer although generally as soon as sale goes through i get the code for you there and then.*PLEASE NOTE* If code not received in 10-15 minutes, please send me a message through ebay, as I have had on the odd occasion, not been notified by paypal/ebay of your payment and serial number ! Thankyou





clio - megane - laguna - espace - twingo - master- scenic - modus - traffic

Thankyou....