3M Command Picture Frame Hanging Adhesive Stick on Strips - Large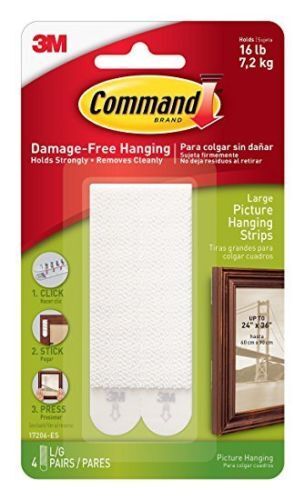 Product detail:These strips hold up to 16 lbs (7.2 kg) - 1 strip for 4 lbs or less, 2 strips for 8 lbs or less, and 4 strips for 16 lbs or lessGreat for small to larger frames - recommended for frames up to 24" by 36"Holds strong, yet removes cleanlyMade in the U.S.A.Supplied loose out of packaging so you can get the amount you require rather than having left overs and paying more.

Special Offer Limited Time - BY 1, GET 1 AT 5% OFF

Command™ Picture Hanging Strips make decorating quick and easy. One click tells you Picture Hanging Strips are locked in and holding tight. Best of all, when you are ready to take down or move your pictures, they come off cleanly—no nail holes, cracked plaster or sticky residue.
Product description
Installation instructions can be found at:-http://www.command.com/3M/en_US/command/hooks-strips/#picturehangingstripsTo Apply1) First, clean the wall with isopropyl rubbing alcohol by wiping gently. Don't use household cleaners like wipes or sprays because they leave behind a slippery residue.2) Separate the strips. Press two strips together until they click.
3) Remove one of the green liners and press onto the frame. Repeat with the other pairs of strips as shown above. Place the lower pair of strips about 2/3 down from the top of the frame. 4) Remove the remaining liners and press frame on the wall. Press each side of the frame firmly against the wall for 30 seconds.