Life in the UK 3rd Edition,For 2018 Audio MP3,Guidance,Practice and Tips(pdf)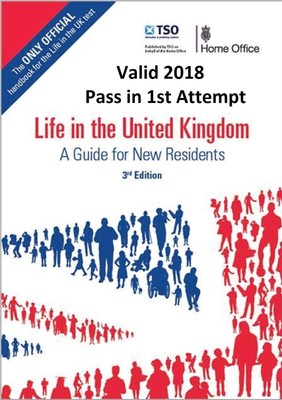 Over 200s sold, but the listing was mistakenly removed. Buy with Confidence! See Feedback for Success Stories. Guaranteed the best and latest material available on eBay for Life in the UK Test - Valid 2018

100% Feedback for this item - Super Fast Delivery! The "Life in the United Kingdom Test" is a test for individuals seeking Indefinite Leave to Remain in the UK or naturalisation as a British citizen. The test lasts for 45 minutes, the entrants have to answer 24 questions during the real test. These materials are compiled by myself. I and many others have used it, and passed in first attempt. The package is most comprehensive on eBay (see screenshot) and includes: 1. - PDF All Chapters of the Original Book2. - Audio All chapters - MP3 - Original Audio o The Chapters Include (in PDF and MP3 Audio) - Chapter 1: The values and principles of the UK - Chapter 2: What is the UK? - Chapter 3: A long and illustrious history - Chapter 4: A modern, thriving society - Chapter 5: The UK government, the law and your role - Glossary3. - Other relevant material including 4. - Practice Questions - 80 Tests5. - Guidance for test6. - What Happens At the Test7. - Quick Facts About the Test8. - Top 7 Tips from people who have passed The full package should be enough to learn and gain the skills and knowledge to pass the test, without any problems. I will be happy to give you much needed guidance with regards to the test, ask if you have any questions :) The files can be be easily viewed or saved in your Computer, Laptop, iPad, Mobile Phone and Tablet. Works on any device. And can be read or listened to, at your convenience.

Once bought, more information will be sent through eBay Inbox. Immediate dispatch. Feel free to ask any questions if you have - My response time is immediate.

Note to eBay: Dear eBay, the listing is in compliant with the listing rules. Please do not remove. Thank you.