2 for 1 Cinema Tickets Voucher Code for Tuesday 13th or Wednesday 14th Feb 2018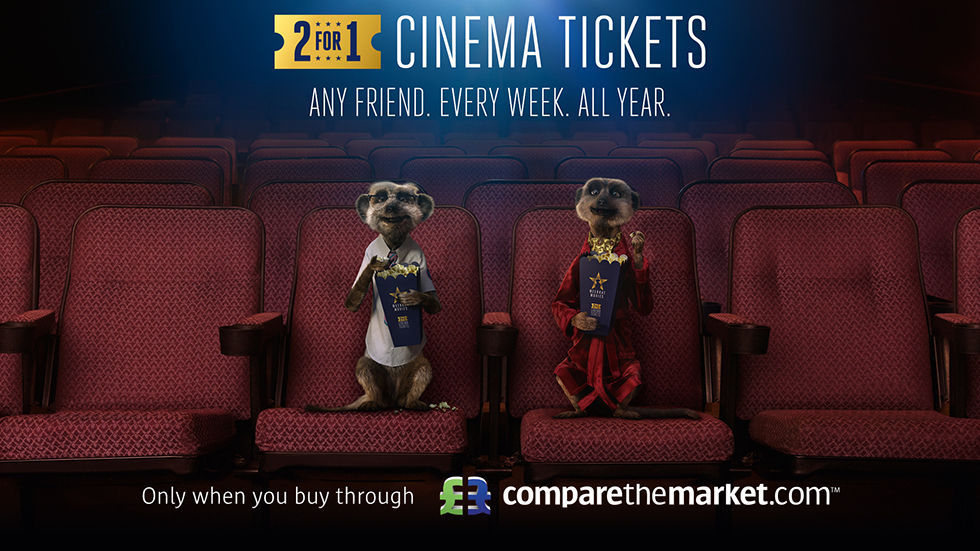 Meerkat Movies 2 For 1 Cinema Tickets Code for this Tuesday 13th or Wednesday 14th of February 2018. I SEND CODES WITHIN MINUTES OF PURCHASING.

Redeemable at most cinemas such as Cineworld, Odeon and Vue. Please check if the cinema your attending is participating in the offer. I have posted a direct link below to check.Voucher code will be messaged once payment has gone through. I will message the code within 5 minutes of Purchasing.
FAQ: Will all cinemas accept my 2 for 1 voucher code? All major cinema chains and many independent cinemas participate in the offer. To check whether your local cinema is taking part, use our MEERKAT MOVIES app. After logging in with your comparethemarket.com account, you can search for the cinema name using the search bar at the top of the main app home screen.



If your chosen cinema displays our golden 2 for 1 ticket in the app when you search, then it is participating in MEERKAT MOVIES. You can also check with your local cinema or on our website. What does my 2 for 1 cinema ticket entitle me to? Simply put, you pay for 1 ticket and get 2! You will get the cheaper ticket free, and the offer only applies to standard screenings, excluding private screenings. If you fancy an IMAX screening, premium seats or a 3D viewing, you will have to pay the difference. Each cinema will also have its own Terms and conditions which apply as usual. How do I use my 2 for 1 voucher code? You just need to present the cashier with your 2 for 1 voucher code - the easiest way to do this is via the MEERKAT MOVIES app. You may also be able to use your voucher code when booking on a ticket machine but be sure to check with your chosen cinema first.