Wool Mix Craft Felt - Huge Selection of Colours - 9"/22cm Square Sheets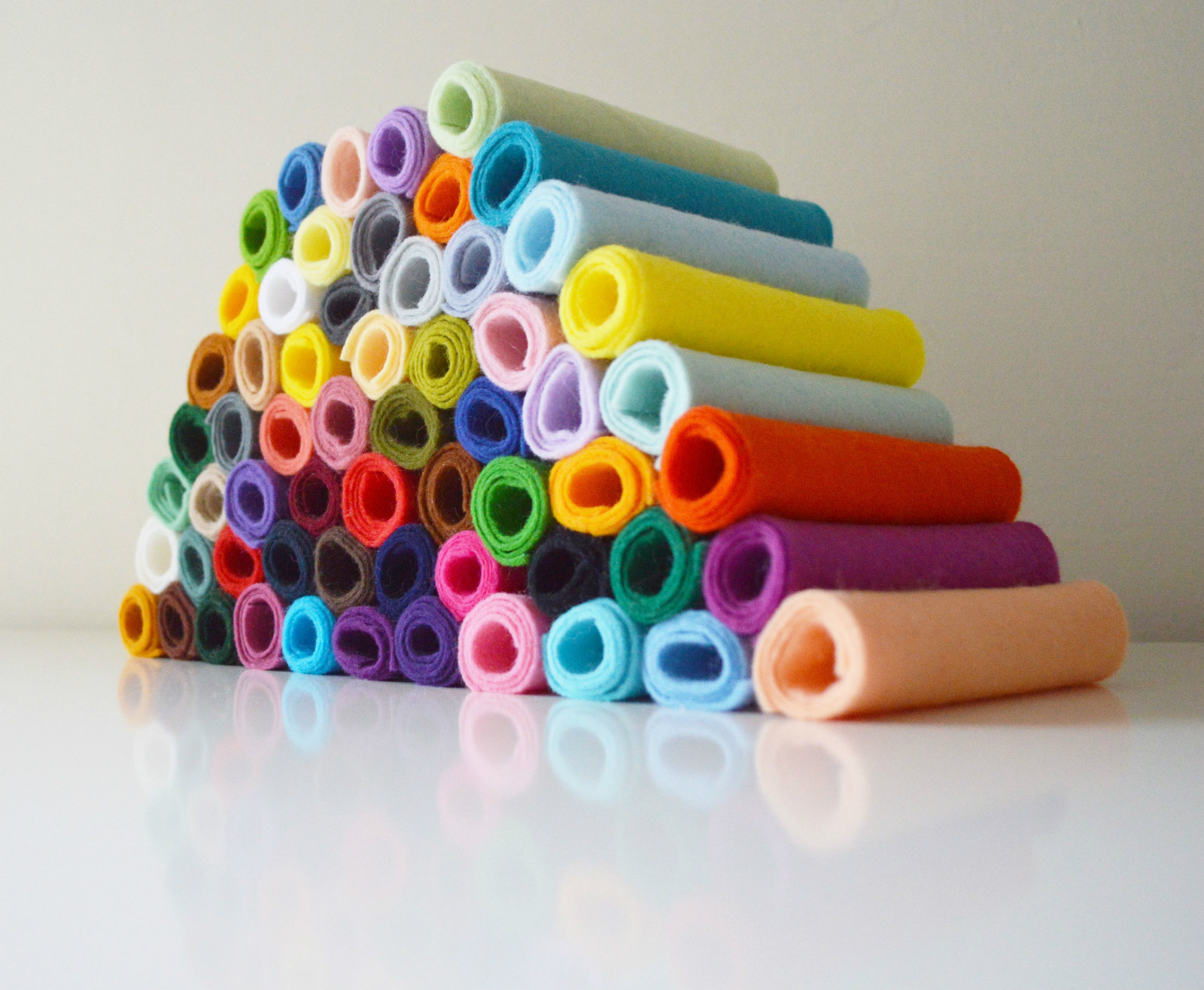 For a 9" x 9"/22cm x 22cm INDIVIDUAL Square of 1mm thick 30% Wool Mix Craft Felt

from a Huge Choice of Colours





To order please match the corresponding number from the pictures, with the equivalent from the drop down menu. For clarity you are buying one individual sheet with each selection that corresponds to the number in the picture. The individual sheets are in group photographs to help you differentiate between like colours.If ordering more than one colour use the "Add to Basket" option after selecting each individual colour and quantity.

If required select an express shipping option and checkout.



How the Promotion works

Add 10 items to your basket to qualify. N.B. You need to add 10 sheets. Order say 7 and you'd pay more than for 10. If you order over 10 sheets the first 10 will have the promotion rate applied, with the 11th sheet ordered being charged at the advertised rate of £0.99 each and so on, until you reach 20 sheets in your basket, when the discount would be applied again on sheets 11 to 20.

That is for every multiple of 10 you order the promotion is applied. There is no need to break your order into individual multiples.

e.g. 10 sheets would be charged @ £5.94 and 20 sheets would be @ £11.88. 12 sheets would be £5.94 + £0.99 + £0.99 = £7.92.



A note on coloursWhilst every effort is made to reflect the true colours as accurately as possible; please be aware that colours may additionally vary depending on your mix of screen, device and location's light.About the felt in your feltIt's 30% Wool Blend and 70% Viscose giving you, compared to 100% Acrylic felt - superior softness, texture, feel, look and sewing capability, in addition to less transparency and fuzz. At the same time the synthetic content in the blend allows for a rich, consistent and huge colour selection (100+) compared to the 100% Wool felts. These "best of both worlds" characteristics and reasonable price result in its huge popularity with crafters of all ages and levels. All the felt is manufactured to 1mm thickness and depending on the colour effect being created you may notice slight variation in the apparent weight and transparency of the felt. That said you can always double up your felt if required as it's easy to glue, sew or mould Wool Blend felt. And since it's non-woven you will have no unravelling or frayed edges to deal with, making it ideal for a wide range of your crafting projects, whatever your level of competency.Every piece is hand cut from rolls - so sizes and shapes are approximate to those described. Any folds or creases will effortlessly smooth out when ironed on a Wool temperature with gentle steam.Conforms to the Safety of Toys standard EN71 & BS5665 Parts 1 & 2.Care InstructionsIron on a Wool heat setting and use a gentle steam as and when requiredDry Clean OnlyHow else can I help?If you happen to have a general question in relation to this offer or an issue with any item I've shipped you, please contact me and I will aim to speedily answer. I abide with eBay's return policy, so if what you have ordered isn't quite what you were after, I am always happy for you to return it and I will offer a full refund for the product on receipt of the return. About meAs a well established eBay Top Rated Business Seller buy all my items with confidence and protection. I am a true crafter who takes pride in the items I sell and publish a craft blog. For news of products and crafty projects why not follow me via www.twitter.com/Snowflakes2014.