FOLDBACK CLIPS BULLDOG STYLE 16mm, 19mm, 24mm, 32mm, 42mm BLACK & ASSTD COLOURS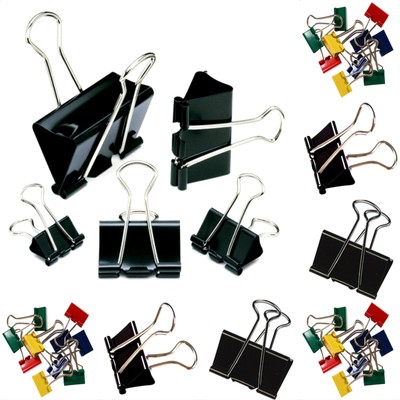 Foldback Clips Available In Assorted Colours,

Black Plus Choice Of Sizes!Foldback Clips are used for binding sheets of paper together.

They leave the paper intact and can be removed quickly

and easily without damaging the document they have

been applied to.



Although predominantly used for keeping documents

tidy and safe they have been used as:



Money Clips, Photo Hangers Book Markers and Pencil Holders.



The Foldback Clips for this listing will be removed from the

manufacturers packaging and sold loose in order to

reduce delivery costs.



The option menu allows customers to purchase

a sample of 1 clip or to purchase 10 clips. It is an opportunity

to ensure that the size you are choosing is the right size for

your project or filing needs.



Check out my other items!