UK BESPOKE 2 PIECES FLOATING BRAKE DISC BELLS BREMBO AP ENDLESS ALCON DRIFT BBK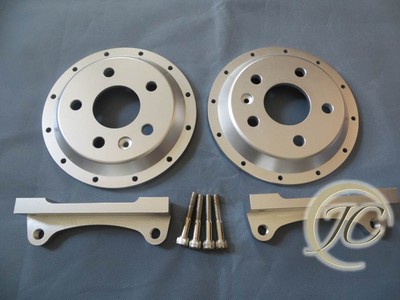 This is the service we can provide, price varies to your brake calipers and car application. We have done many conversions for Family, Sport, Luxury, 4x4 and Race Cars.

Please contact us for your application. Brakes Set Up: We can supply bells/brackets in 7075 aerospace grade high strength aluminium for your application. We are able to create mounting bracket for your existing 4, 6 and 8 pots calipers to fit other cars.(Full Range of Calipers can be supplied) Handbrake type calipers are too small for high speed application, some cars must retain handbrake caliper other than 2 in 1 caliper, therefore we've invent brackets plate for dual rear calipers setup. (1 for hand brake 1 for normal use) All parts are bespoke to your personal needs bells thickness, bells colour, disc sizes & pattern etc. We are able to retrofit/modify your new or used carbon ceramic disc to fit other cars. (i.e Mercedes AMG carbon ceramic disc can be fitted to Ferrari with our special made bells and brackets). Disc Size: Brake Disc can be supplied in various sizes & patterns (Drilled or Slotted or Both) in original sizes. or 330-380 mm (for 4 or 6 pot calipers) or 380-410mm (for 6 or 8 pot calipers). 19" or bigger alloy wheels must be fitted to accompany 380+mm discs.

Advantages: Production cars usually equipped with weak brakes set up, show its weakness under high speed and full of passengers, improve brakes performance means improve safety. Bells in varies thickness for hub extend (same function as wheel spacer but more rigid) to allow offset adjustment, increase truck for better handling. 2 pieces race floating design improve cooling can withstand more heat. Lighter than original (If both same size). Create race car look by replace the original disc. Really stand out and look amazing behind the wheels. All Bells and Brackets are CNC machined ensure high accuracy. Anything can be personalised if you provide drawing. The Discs and Bells are made to order, please allow 3-4 weeks for delivery from UK, Import Tax and Duty to other countries is buyer responsibility.