The Star Dome - A Luxurious Star Gazing Retreat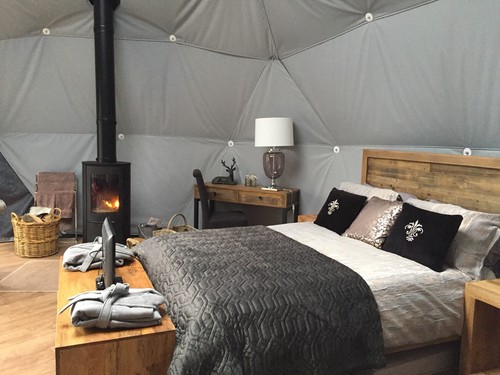 Nestled in a private wooded glade watch the dawn spill sunshine over the patchwork of fields spread out in the valley below and then at dusk, as the warm glow of the log fire breaks through the night, gaze at the ever changing panorama of the sky through our star gazing window.Our star dome offers the simple joys of the great outdoors; designed for nature cravers, adventure chasers, peace and quiet seekers, star gazers and memory makers. It offers an enriched way to explore nature close up with amenities you would expect to find in a deluxe hotel: well-appointed beyond your expectations.Features a king size bed with plush pillows and a luxuriously cosy duvet, a full sized dining table and chairs, outside furniture, a luxurious Scandinavian wood fired hot tub, BBQ, hammock and a private bathroom with a steaming hot shower, a flushing toilet and convenient kitchenette. Minimum 2 nights stay. Sleeps 4. All dogs welcome at an additional charge. We are based near Ludlow, Shropshire. Prices:Off peak season: £95.00 per night midweek                             : £120.00 per night midweek 

Peal season:     £130.00 per night midweek                           £165.00 per night weekend

Hot tub usage = £50.00 per stayDogs = £10.00 per dogBaskets of logs = £5.00 per basket

2 adults and 2 children (no groups or single adult party permitted) We also offer luxury hampers. More information can be found on our website, www.woodlandescapes.co.ukPlease note that we must take bookings through our website ONLY.