Cineworld Adult 2D Cinema E - Ticket - £3 using code / INSTANT DELIVERY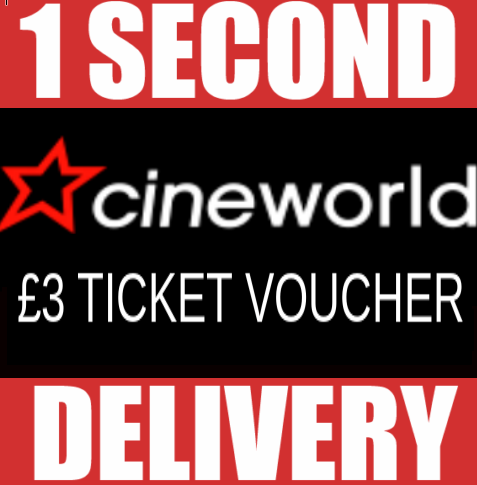 You are purchasing 1x Adult or Child 2D voucher which discounts ticket to £3 + 70p booking fee.

Vouchers expire on Tuesday 20 February 23:55, but can be used for future bookings. Check before buying.Codes will be sent to you via eBay message instantly

To be booked online with 70p per person booking surcharge. Valid for any Cineworld cinema in the UK (excluding Unlimited and VIP/premium screenings, Cineworld cinemas at Leicester Square or Picturehouse cinemas). Also excluded are Cineworld The Screening Rooms Cheltenham, Cineworld IMAX Glasgow Science Centre.This voucher cannot be used to upgrade to IMAX, 4DX, DBOX or VIP.

Can redeem multiple unique codes in one booking, excellent for couples or groups.

How to Redeem online?

• Customer selects cinema, film, date and taken through to login or register page.• Customers are then asked if they would like to either 'Login', 'Register for a Cineworld Account' or 'Continue to book without logging in'.• Customer chooses option and goes through to 'Choose your tickets and seating type'.• Customer enters code(s) into the "Got a ticket voucher code or CEA carer card?" box.• Customers ticket is then discounted to £3.00.• Customer pays £3 plus 70p booking fee• Customer has then purchased ticket and can redeem in venue.