31mm/36mm/39mm/41mm/42mm CANBUS ERROR FREE SMD LED FESTOON BULB C10W C5W - WHITE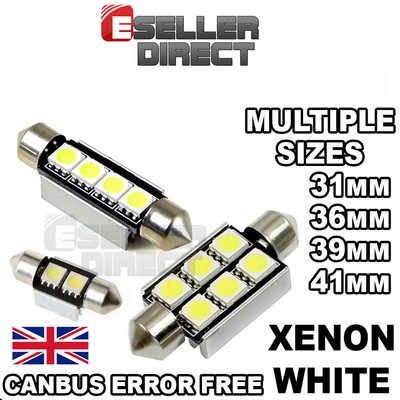 SUPER bright 5050 SMD LED bulbs, compatible with canbus bulb error systems. These bulbs have been designed with built-in load resistors which will overcome the problem with warning errors and rejection. Transform your dull yellow lights into modern xenon white lights Features Info:Size/Fitment: 264, C5W, C10W, SV8.5, FestoonColour: Xenon White 6000KLifespan: 60,000 HoursUsage: footwell, interior, puddle, boot lightsVoltage: 12vPlease note: if you purchase a Sample packaging box, you will receive a packaging box with NO LED BULBSHigh quality, low power consumption & long lastingLEDs have polarity, The bulbs have a positive and a negative side so if they do not work at first please remove and turn them around.Please note: Some advanced canbus/bulb error systems may cause the lights to blink, turn off or still give an error on the dashboard. These advanced systems require additional load resistors to be installed, which will allow the bulbs to simulate the same resistance as your standard filament bulbs.Easy Installation: Simply plug and play, no modification requiredThese bulbs are for interior use only, not for exterior use of a vehicle. Please message us if you require bulbs for the exterior of your vehicle.These bulbs are not suitable in some vehicles for long intervals, if you require bulbs which are suitable for long intervals, Please message us.Fitment may vary depending on vehicle, we suggest you check your existing bulbs to ensure these bulbs are the correct ones for your vehicle. Package ShippingThis depends on the pack size selected

Eseller Direct offer discounts on P&P when buying multiple items.

Eseller Direct is a British company which was formed in 2012 with the aim of providing high class products to our retail and wholesale customers. Our global reach and professional workflow, means that we can offer our customers, the best products at unbeatable prices..We want your experience with us to be the best the net has to offer. great quality products, unbeatable prices, and the customer exceptional service and support, you deserve.We strive to provide exceptional customer service so please feel free to contact us through eBay if you have any further questions. We are always committed to providing a high standard of customer service. Our experienced and dedicated customer support team are ready to help you resolve any enquiry or concern which you may have, quickly and efficiently. We aim to answer all emails within 24 hours (Monday-Friday), so you shouldn't have to wait for long. Our goal is 100% customer satisfaction and we strive for that in all we do, if you are not satisfied then our customer support team is at hand to assist. Our preferred payment method is PayPal as it provides protection to both parties. We only ship to your registered PayPal address, if for any reason there has been a change of address, please could you update your details on your PayPal account before proceeding checkout. Please note: Payment made via eCheque can delay your delivery as it takes from seven to nine working days for an eCheque to clear. As soon as we receive payment the item will be dispatched.We aim to dispatch all orders within 24 hours (Monday - Friday only excluding Bank Holidays) of receiving cleared payment. Weekend orders are dispatched on Monday (excluding Bank Holidays).At Eseller Direct we aim to provide our customers with the best service possible. If you are not satisfied with a product sold by Eseller Direct for any reason, simply contact us by using the eBay messaging tab. You can return the item within 14 days of delivery and we will refund you the full cost of the item less shipping. Please ensure that the item is appropriately packed to avoid damage in the transit. Also, provide your eBay user ID, item number and the reason for return when returning the item. Any item returned must be in satisfactory condition.Please note: For international orders, you are responsible for the returning cost of the item and the original shipping cost is non-refundable.Unfortunately, sometimes despite our best efforts and intentions, errors do occur. If the item you received is not as described, the incorrect item or was damaged during shipping. Please contact us and we will happily replace the item, or issue a refund without any hesitation. All items returned must be in satisfactory condition with all necessary components. Failure to comply with this will result in us not being able to issue you a refund or replace the item. We require the item to be returned to us within 14 days so our technician can carry out the in-depth testing procedure.