PERSONALISED CUSTOM BADGES -HEN & STAG, BANDS, WEDDING FAVOURS, BIRTHDAY PARTIES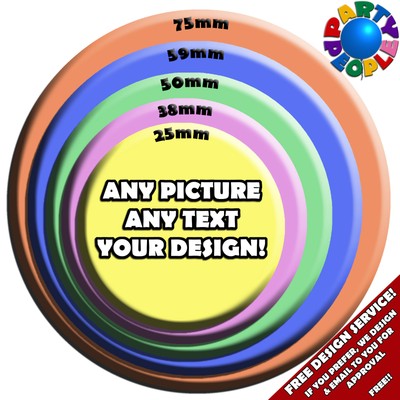 FAQs @ Bottom of listing!! INSTRUCTIONS: 1. Select the size and number of badges you want from the drop down boxes

and complete checkout.

(Only change the quantity if you want multiple sets of your

chosen size and number of badges)



2. Once you complete checkout, send us a picture, design, or description

of what you want via the ebay message system



3. We will message you the design back for approval (or if you sent us a complete

design,we will jump to step 4).



4. Once approved we will ship the completed badge to you



Please allow:

1-3 working days for 1-50 Badges

2-5 Working days for 51-500 Badges

Up to 7 Working days for 501+ Badges

PLEASE NOTE:

All badges must be of the same design,

as these prices include the design service.



If you want multiple designs, you will

need to purchase multiple amounts using the "Quantity" value

e.g. if you want 10 "His" and 10 "Her" badges,

please order 2 lots of 10 badges, not one lot of 20

Great for all occasions including: Parties, Birthdays, Stag Parties, Hen Parties, Wedding Favours, Corporate events, Business promotions, etc etc

FAQs: Q: I am not happy with my item - what are you going to do about it?

A: We pride ourselves on great customer service. Contact us via ebay and we will do everything in

our power to fix any problem. Please do not leave feedback until giving us a chance to put things right.

If you don't tell us, we can't put it right!! Q: How much wood could a wood chuck chuck, if a woodchuck could chuck wood?

A: 1.2lbs per chuck. Q: Will my item arrive in time for Halloween/Christmas etc?

A: Please see delivery time details above and allow that time for your items to arrive (maybe a little more at busy postal times like Christmas!)

If in doubt, check shipping dates on www.royalmail.co.uk (they publish last shipping dates for Christmas!) Q: Is this a cheap plastic badge?

A: No, its a metal badge with a proper "D" style pin! Q: What is the answer to life the universe and everything?

A: 42 Q: You didn't answer my question here

A: Drop us a line on the ebay message system!