The Glendale Antiques Centre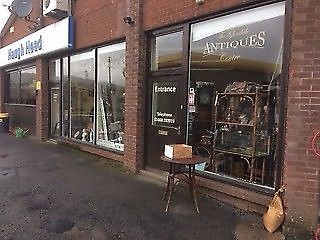 This listing promotes The Glendale Antiques Centre based at the Haugh Head Garage that lies on the A.697 approximately one mile south of the town of Wooler in North Northumberland. The postcode is NE716QP.

Located in a former car showroom adjacent to an active garage forecourt, the Centre houses 15 independent dealers offering antique furniture, ceramics & glass, metalware, pictures, militaria, nauticalia, silver & plate, jewellery, antiquarian and collectors' books, general collectables and so much more. There's Rijo42 coffee too.

Always a warm welcome from our staff within a pleasant and wheelchair friendly selling environment with plenty of free parking. Opening hours are 10am to 5pm 6 days a week (closed Wednesdays). Our telephone number is 01668 282019. Out of hours telephone contact is 07796 758974.

We have six years of experience in the locality, originally at the Glendale Business Centre for 3 years, followed by a further 3 years in Wooler Market Place. We recently moved to ideal premises at the Haugh Head Garage.

We look forward to seeing our friends, old and new, in the hope we have just that little something you're looking for. In addition, we are the ideal trade call as our prices are highly competitive and our aim is to sell. Don't hesitate to get in touch if we can be of further help and don't forget, we're at the heart of Northumberland's 'antiques country' - Florin of Wooler, Miller's Antiques and The Hedgeley Antiques Centre are just a stone's throw away.

NOTE ADDED ON 21st MAY 2018

The grapevine tells us that one or two folk have indicated that they have difficulty locating us.

Well now, the Haugh Head Garage is the only garage on the A.697 one mile either north or south of Wooler (actually, it's south) and like so many garages there is a huge frontage with massive signs, petrol pumps and a large building. Within the building, there are three units : a cycle shop (that's not us) ; a garage shop and petrol pay desk (that's not us, either) and an antiques centre - hey ! that's us ! We're not up a back alley, we're not on the fourth floor and we're not in a camouflaged building - we have three huge front windows (floor to ceiling) and the graphics The Glendale Antiques Centre on all three.

If you can't find us after that encyclopaedia of information you don't need an antiques centre, you need a home for the bewildered !