permaculture homestead accomodation educational holiday cottages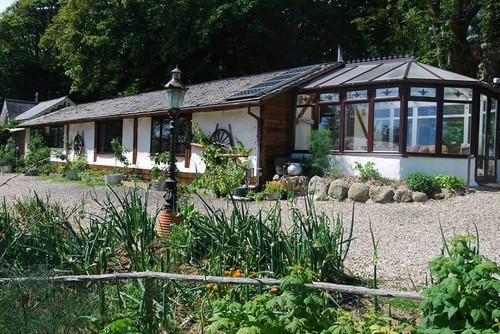 "WANT TO START PRACTISING PERMACULTURE"?

Why not join us for a hands on experience.!!

Permaculture Island is a family run homestead situated on a two acre property that fronts Niton Undercliff, overlooking Reeth bay at the southern tip of the Isle of Wight. The landscape is diverse unmanaged wild forest and scrub, with abundant wildlife thriving in this special micro climate. The homestead is under continuous develpoment and with ever changing and evolving ground research in practice; work is consistently in progress to develop more efficient and productive systems.



You will find:

Potatoes, three cornered leek, chives, walking onions, watercress, Chinese mallow, Siberian purslane, nasturtium, mashua, beans, rhubarb, kiwi, grapes, apples, plums, pears, raspberries, loganberries, gooseberries, blackberries, black currants, goji berries, Chilean guava.

To name but a few.!!!



We specialise in

* Forest Gardening

* Low cost living

* Alternative Energy

* Development of Bio-Gas .



FOREST GARDENING.



We grow food by imitating natural design with an emphasis on resilient perennials. Locally sourced thick mulches cover our soils to simplify management.



If you are looking for a unique experience, would like to contribute to the practical development of "Permaculture Island" and do not shy away from hard work, then we may be able to offer you mutual reward, learning and fun!!



ACCOMMODATION



Accommodation pods: two single beds or one double in each pod. Over looking south stunning sea views. Surrounded by a kitchen garden.



Small fridge, Single hob gas cooker Dutch oven, Two USB charging ports (no other electrical supply provided) Internet is available in the evenings, Washing facilities available

No smoking within the pods.



We do not supply meals but have a kitchen garden surrounding the accommodation. We welcome consumption and maintenance.



We Also offer available Courses on site:



Food Forest Garden Tour:

Sunday 20th May. €20

10am-12.45pm or 2pm-4.45pm

Refreshments cake/snacks included.

Here is a great opportunity for you to join us on a tour of our permaculture garden/food forest on the Isle of Wight!..the tour is approximately 2hrs with time afterwards for questions and discussions..

No dogs due to chickens on the land.

Suitable for 12 years+



Upcoming Courses:

*Soap Making.

*Coastal tour of wild food and plants. Including. cooking and trying limpets on the beach.!!

(Dates on these to be confirmed.)



ACCOMODATION COSTINGS



£20 per person per night.



Minimum stay of two nights.



https://permacultureislanduk.wordpress.com



For more infomation on staying or the day courses.

Please message Lucy for information on staying or day courses.