Apple iPhone IMEI checker Network Carrier Check Sim lock status check All Models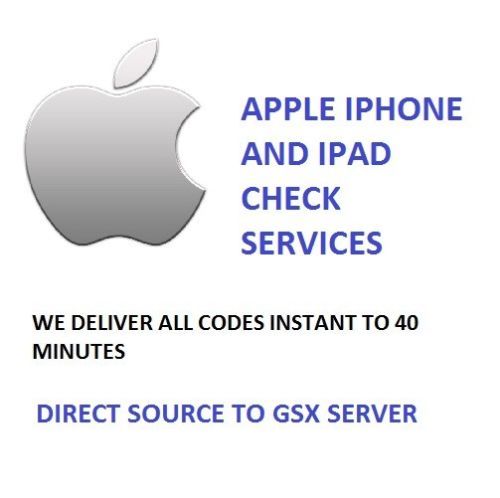 Buy one get one Free



Promotional offer: 2 Of network check at the price of one (Limited Time offer)



Sample :

IF Locked :Device: iPhone X Gold 64GB A-1586
IMEI Number: 359282XXXXXXXXX
Serial Number: F73PXXXXXXXX
Carrier: 270 - UK Vodafone Activation Policy
Country: United Kingdom
SIM-Lock: Locked



IF UNLOCKED:Model: iPhone 8 Plus Black 32 GB

IMEI:3553490XXXXXXX
MEID:355349XXXXXXX
Serial Number:FCHTT7XXXXXX
Simlock Status:Unlocked



All Iphone Ipad with IMEI supporte(Iphone 4 4s 5 5s 6 6 Plus 6s 7 7+ 8 8+ Iphone X )Ipad Cellular Ipad mini Ipad 2 Ipad 3 Ipad 4 Ipad Air

All iPad and IPod With Serial number Not supported in this service.

We deliver results instant to 40 Minutes.We work 9Am till 11 PM midnight .

This is only info Service does not remove iCloud.No device is sold in this service.



Send IMEI number in Pay pal notes or via eBay message.Full refund for Not Found.

Do not say have one imei so refund £0.50 we can not do so.Send us 2 imeis if have one will charge you £ 0.99 full for one imei.

We do not sell any device , this listing is for information services.