New Sky Q TV Introduction Gift Voucher £50 Prepaid MasterCard Money Off Discount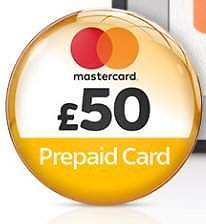 Join Sky Q TV and get a £50 Prepaid MasterCard®

It doesn't seem Sky often do a decent deal, however If I introduce you to Sky Q TV they will give both a £50 MasterCard gift card as a thank you for joining sky.



How it works (and i used this myself):Purchase and pay for this item and ill pass Sky your name and email - Its that simple.As your name and email will come from me they will send both a gift card once your up and running.

So if you are thinking of joining sky then why not get a voucher for it.



You must be a new Sky TV customer. Sky will send you your £50 prepaid Mastercard® reward once Sky have received your first subscription payment. Mastercard® can be used wherever Mastercard® is accepted, except gambling, cash withdrawals, currency, cashback or at petrol stations. Unused card values will expire 12 months after the cards are printed. Further terms apply.

If you have any questions please contact me.Thank you for looking.