Thomas Cook Holiday Vouchers £50-£5000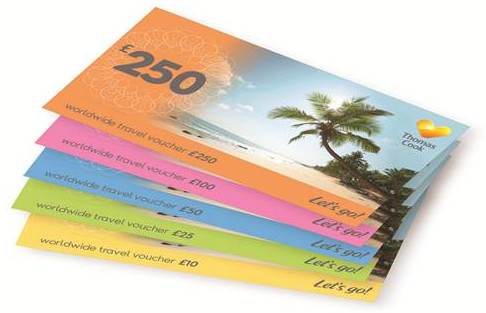 Are you going on holiday soon?

Are you are about to book a holiday through Thomas cook or the Co-Op Travel?Or have an existing holiday that you need to pay off?

Maybe you just want a gift voucher for someone towards their holiday as a present for a wedding or birthday?

Get in touch for your holiday vouchers which might even save you a few pounds as when bought in bulk i can offer a discount on vouchers for orders of £150 +

For example;

*You buy a voucher worth £100 you pay £100

*You buy a voucher for £150 + I can knock 2.5% off the value of the voucher (Value £1000 you only pay £975) Saving you £25!

Imagine if you were going on a holiday that was costing you say £2850 .. Take off 2.5% = £2,778.75 Saving you a total of £71.25. The rate of discount can be negotiated within reason.

How it works:

These are instant vouchers that I am selling on behalf of Thomas Cook and therefore I get commission based on the number of sales so this is how I'm able to get the vouchers a bit cheaper whilst still making a little bit of extra income for myself.

You can have a Thomas cook re-loadable card if you preffered however it takes around 5-7 day's to receive the card and + £6 extra for secure delivery so most people prefer the instant vouchers that I send in an email. Means you have the voucher straight away and you don't have to wait for it to be delivered.

I've put this on eBay as an advertisement only @ 99p - Don't buy this item. This is for advertising purposes only and you need to message me so I can get you an accurate quote.

Vouchers range from £50 to £5,000.

Vouchers can be any multiple of 5 or 10.

Just get in touch with how much your holiday is or is left to pay and I can send you an instant voucher via email that you can use in Thomas Cook / Co-Op branches.

Once purchased and received, vouchers are non-refundable due to them being instant loaded. Payments can be made via PayPal or bank transfer.

You can book online using these instant vouchers however you need to have enough money to pay in full for your holiday online as vouchers can't be used as a part payment. Only one voucher can be used online per booking or a debit/credit card so this is why its best to use the voucher in store. Plus if you say bought a £100 voucher as a gift for example the person could go into store and put it towards an existing booking whereas if you book it online it won't let you make a part payment.

What you can't do:

You can't use these vouchers towards Thomas Cook airlines. You can't use them towards accommodation only bookingsYou can't use them towards flight only bookings. You can't use them to buy financial services for example travel insurance. You can't use them to pay for Thomas Cook Sports packages @ thomascooksport.com

These vouchers are ONLY for package holidays. If your unsure, before buying, Speak with Thomas Cook in store or call them to ask if the holiday you have booked or about to book will accept this paper voucher.





Message me for quotes and discounts!