MEN'S SILVER CUFFLINKS GOLD STAINLESS STEEL MENS WEDDING*Buy 5 get 1 free*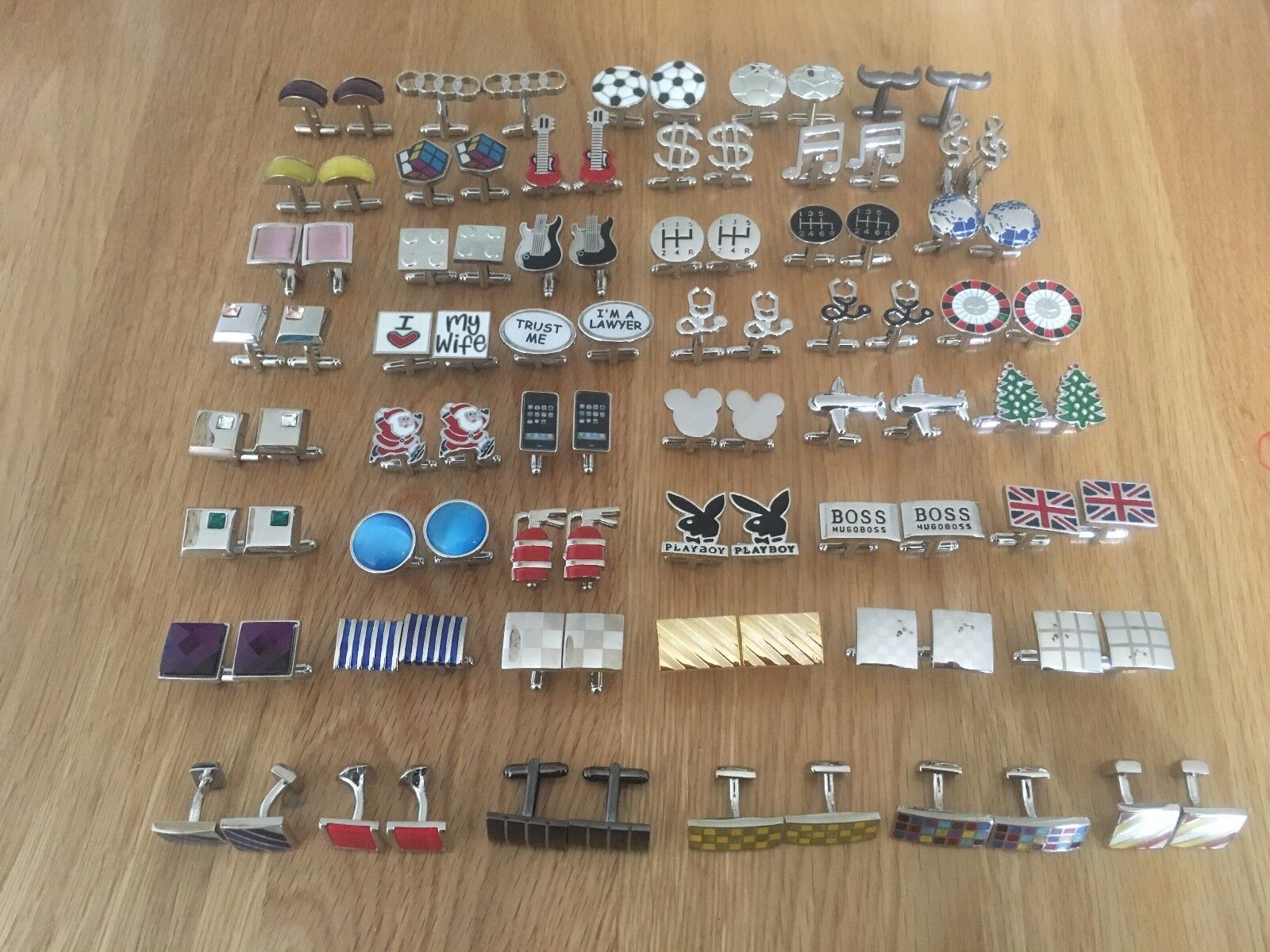 MEN'S SILVER CUFFLINKS GOLD STAINLESS STEEL MENS WEDDING CUFF LINKSPERFECT CHRISTMAS STOCKING FILLERMEN'S SILVER CUFFLINKS GOLD SILVER COLOUR SQUARE, RECTANGL( The cufflinks in the picture is the actual picture of the cufflink that you will receive)PERFECT CHRISTMAS, STOCKING FILLER, BIRTHDAY, WEDDING GIFT FOR YOUR LOVED ONES Laser Cut, Solid brass, Chrome Gold Enameled Retro Vintage Wedding Prom Cufflinks50 different designs to choose from, please choose the design you like from drop down menu.Buy 5 pairs of cufflinks and get 1 pair for free from us. Pay for 5 cufflinks and message us the one you like for free. Or we will send you a random cufflink.Product feature: This is a brand new and custom made cufflinks, good quality product.Made of Brass and chrome. Eye catching, very sparkly and super trendy. Each Cufflink is bound to please, they are **AMAZING** Size: 2cm Diameter 4mm Thickness (May vary with different design) Package List: 1 x Pair of Cufflink Option to buy with lovely pillow gift box. If you are buying with pillow gift box and cufflink together please message me which design cufflink and gift box would you like to buy. The gift box needs to be assembled. gift box size:Small silver glitter printed : 7 x 8 x 3 cm
Mini Black : 8 x 5 x 2.5 cm
Snowflake : 6.8 x 6 x 2.5 cm Payment Method: We only accept pay pal as a method of payment. Shipping Policy: Items will be dispatched in one working day. You will receive the item within 1-2 working days. International buyer may receive their item 4 - 10 working days. We always keep the proof of postage from post officAll the queries will be answered within 24 hours. Please feel free to message us regarding any queries. Return Policy: Please return the item within 14 days if you are not happy with it, change your mind or receive damaged item. We will be more than happy to exchange the item for you. Please do inform us via eBay when you return the item with your id no and the reason for the exchange. We appreciate a positive feedback after receiving the product. In return we will leave a positive feedback for your purchase. Customer's satisfaction is our main priority. We do our best to offer you the highest quality of service and product with timely delivery. If you did not like the product or the service please let us know via email before leaving the negative feedback. We will do our best to solve any problems you may have. Thank you. Happy Shopping!!!