Anything Is Possible by Elizabeth Strout 2017 epub digital book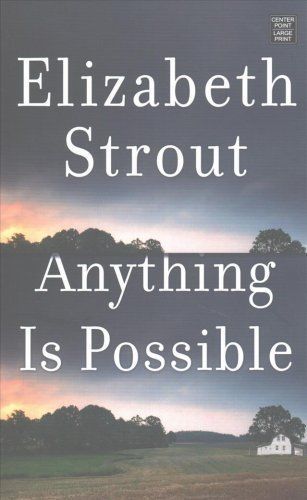 Anything Is Possible by Elizabeth Strout 2017 e-book epub VERSION ReviewIt's hard to believe that a year after the astonishing My Name Is Lucy Barton Elizabeth Strout could bring us another book that is by every measure its equal, but what Strout proves to us again and again is that where she's concerned, anything is possible. This book, this writer, are magnificent. (Ann Patchett, No. 1 New York Times bestselling author of 'Commonwealth')

This is a shimmering masterpiece of a book...Strout is a brilliant chronicler of the ambiguity and delicacy of the human condition. Anything is Possible is a wise, stunning novel (Observer)

The words appear on the page as if breathed there (Sunday Telegraph)

Anything is Possible is wonderfully readable because Strout really can write you into a world until you feel you are there with her, in that house, that life, that little Podunk of a place (The Times)

Strout's compassion for her fellow creatures, as these anguished, lean stories prove, is as keen as a whip and all the more painful for it (Guardian)

The work of Elizabeth Strout suggests that she pays a similar quality of unseparate attention to life, which she - not passively, but actively - takes in, listening to, looking into it, reflecting up on and freeing it once more, remade, in beautifully placed words, onto the page to live again for us, her fortunate readers (Daily Telegraph)

Anything is Possible is absolutely wonderful. Here is a writer at the peak of her powers: compassionate, profoundly observant, laser-cut diamond brilliant (Literary Review)

Anything Is Possible confirms Strout as one of our most grace-filled, and graceful, writers (Boston Globe)

There is immense humanity in Strout's writing....her masterful economy of prose creates a rich tapestry infused with emotional wisdom...Anything is Possible is a masterpiece (Sunday Express)

A quietly gripping deception of some of the ordinary, messy, interwoven lives that Lucy and her mother discussed in the earlier book (Radio Times) From the Inside FlapNEW YORK TIMES BESTSELLER - An unforgettable cast of small-town characters copes with love and loss in this new work of fiction by #1 bestselling author and Pulitzer Prize winner Elizabeth Strout.
One of Entertainment Weekly's 10 Best Books of 2017 So Far
A WASHINGTON POST NOTABLE BOOK


Recalling Olive Kitteridge in its richness, structure, and complexity, Anything Is Possible explores the whole range of human emotion through the intimate dramas of people struggling to understand themselves and others.

Here are two sisters: One trades self-respect for a wealthy husband while the other finds in the pages of a book a kindred spirit who changes her life. The janitor at the local school has his faith tested in an encounter with an isolated man he has come to help; a grown daughter longs for mother love even as she comes to accept her mother's happiness in a foreign country; and the adult Lucy Barton (the heroine of My Name Is Lucy Barton, the author's celebrated New York Times bestseller) returns to visit her siblings after seventeen years of absence.