Cineworld Tickets *** Info Only ***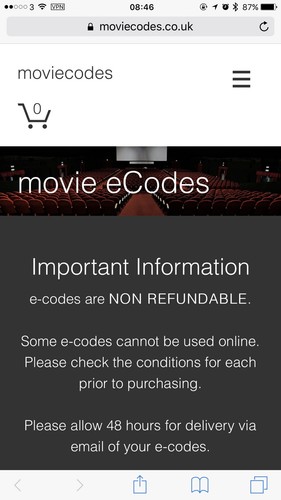 PLEASE NOTE: Due to a number of fraudulent buyers on eBay, I am changing the way I sell here.Upon successful purchase:I will message you the details of how you can get codes delivered instantly to your email address.



You will be sent a discount code to the value of £0.99 that can be used to purchase e-codes at the prices below.ecode prices are:Adult - £7.99Child - £5.99You can watch any 2-D film on any day at any timeThese tickets have a long expiryI will message you details of how to buy. 
There is an online booking fee of 50p on the Cineworld website, alternatively using the codes in the cinema attracts no charge.
Any questions, please feel free to contact me via messenger.
Conditions: Cineworld e-codes exclude IMAX, D-Box, Alternate Content and Superscreen screenings. The e-code is valid for a minimum of 3 months and can not be used in conjunction with any other promotion. E-codes are non refundable. Excludes Star Allocated seating which is available at select Cineworld cinemas. E-codes are valid for Sony 4K Cineworld. E-codes are not valid for 4DX showings. Please note that Cineworld e-codes are not accepted at Empire Leicester Square (despite being recently bought by Cineworld).