Luxury Villa Kalkan Turkey Islamlar Village - May Half Term Week 2019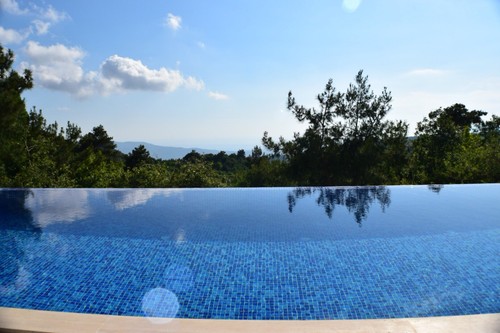 Before you purchase you must first check availability before we can accept any booking !! Thank you. Please contact us by eBay messaging to ask any questions !!Get an extra week for just £750 more. The Turkish lira is currently 8.0 to the pound compared to 4.5 during last summer !

If you are familiar with Turkey and know Kalkan is 1000 miles from Istanbul, its like comparing Cornwall to London. I personally feel safer in Kalkan than London or any uk major city any day.

Kalkan is a famously upmarket resort, 1 and 1/2 hours drive from Dalaman airport. It is based around a beautiful Marina housing traditional Turkish fishing boats and luxury yachts.The town offers 100 restaurants both traditional and European, banks, supermarkets, jewellery shops etc etc. Everything you could possibly desire, but it does get hot and busy during peak months.The secret - is Islamlar village set just behind Kalkan in the Taurus mountains and it offers the best of both worlds. It is just 10 minutes drive from Kalkan and it is quiet and peaceful plus 5 to 10 degrees cooler and has fresher cooler mountain air.Kalkan gets very hot during August so those 5 to 10 degrees make all the difference. Villa Risus is new this year everything is fitted to the highest standard and if interior design is important to you this will blow you away with contemporary design but functionality too. You have wifi connectivity, 3 Bluetooth speakers to transmit music from your device and collection. There are 6 flat screen televisions all with hdmi leads connected to apple or android connectors which link your iphone or iPad to the television so you can project you video or music.Villa Risus has 3 double bedrooms in the top 2 levels, all ensuite with modern flush toilets designer sinks and over head shower. Each bedroom has air conditioning a fridge private view, sliding windows and mosquito meshes so the windows can be left open over night but you are protected, schemed art work,soft chairs and led lighting throughout and personalised linen (replaced each week).The 1st floor houses the kitchen lounge utility and access to the Infiniti pool to the front via double patio doors.The master bedroom at the top level provides walk in ensuite, double bed and wall to ceiling windows with amazing views, the adjoining balcony is as big as the room itself, with luxury outside furniture consisting double sofa and two chairs and long table. It is lit at night by stainless steel up and down lighters separately operated so you can create the ambience you desire. This lighting is repeated throughout the rest of the villa both inside and out.The view is unspoilt, trees and greenery reaching to the coast at Patara a site of historical importance and home of Patara beach always featured in the top five best beaches in the world, home to loggerhead turtles all development is banned on the 12 miles of sand. Outside in the 1500 m2 grounds are newly planted fruit trees orange, lemon, peach, there are vines and a newly planted olive grove and three herb gardens so you can cook with fresh herbs and enjoy the aroma.There are 3 hammocks for your afternoon reading in the shade and ample parking for your cars and visitors. The villa is owned by us but we work in conjunction with the most helpful villa maintenance company who provide linen and cleaning, pool, garden and villa maintenance. We have written a lovely Villa guide for Risus providing advice on local restaurants and shops both in Islamlar 3 minutes drive away and in Kalkan itself. Emergency numbers a list of beaches and places you may wish to visit. Please let me know if you have any other queries or question please email me via eBay. We have learnt that cheap car hire is often very unreliable and to provide a more relaxing experience for you we have established a deal with a Kalkan based hire company who will collect you from the airport on arrival ,leave you with the hire car at the villa and then when you return drive you back to Dalaman airport again . You can of course arrange any other hire you wish, but this option means you don't have to worry about finding the villa when you land at Dalaman ,or feel tired or nervous about driving on unfamiliar roads.Instead sit back relax and have a glass of wine your holiday has already started. 
Look forward to hearing from you 07926 with your booking request364701; stays normally run from Saturday to Saturday but we will try to accommodate your needs. We can help you as much as you like to arrange your flights and with car hire or airport transfers or over night stays close to the airport. We will help you with anything to ensure you enjoy your precious holiday time. Directions from Dalaman airport to Kalkan and then the final 12 minute drive to the villa from Kalkan including distances in km and pictures of significant direction changes will be provided. Smoking outside only please. 
Please feel free to ask any questions via eBay email

Featured on the front page of Kalkans property magazine,Best new villa 2016/17 outstanding position design features and customer care.



Georgina's review:When we stepped into the front door at villa risus, we couldn't believe our eyes. It is an absolutely stunning villa with the most amazing views over the mountains. The owners have an exceptional style, the villa has everything you could possibly want, the master bedroom is out of this world, floor to ceiling windows with a huge patio area to watch the sunset, it also has the most spectacular views. Each bedroom has it's own onsuite, aircon and the beds are so comfortable. 
The villa is so spacious that there is always somewhere to take yourself off to. I liked the hammocks, as the are situated in the most perfect of places ideal to read a book in the evening. 
There's an outside dinning area with a bbq which is ideal if you dont want to go out for food. It really has everything you could want, you dont want for anything as the owners as thought of every last detail. 
We will definitely be coming back. 
The villa is in islamar village, just a short drive to kalkan. We actually thoroughly enjoyed being in islamlar as it was very quiet and peaceful. We loved the location as it was secluded, away from the outside world, but not too secluded that if you wanted to you could venture out to civilisation. 
We did go into kalkan a few times, but to be honest i'd have happily not left the villa. 
Patara beach is fabulous, definetly worth taking a trip we all loved our day at the beach. 
The restaurants in islamar and kalkan are amazing. The locals were very welcoming and couldnt do enough for you. 

It does get quite hot, the sun stays on the pool from around 9am till around 7-8pm. The pool is beautiful. 
The villa is spotlessly clean. Cleaning service came round mid week. The cleaning ladies are all lovely. 
We had a hamper on arrival which was really good because we arrived quite late. The villa has a water cooler new bottle on arrival which was really good. My daughters loved that by the way. 
Honestly this was an amazing holiday. We all loved our stay. Thank you all for all your help, you all made our stay at villa risus very pleasent indeed. I can honestly say that we did not want for anything. 

The owners of villa risus are very amazing. They are very professional and go out their way to make sure you have a stress free holiday.
Thank you for letting us enjoy your beautiful villa. Its an amazing place. Perfect in everyway. 🌞

Emma's review.

Villa Risus & Kalkan will not disappoint.

The area is beautiful, the villa amazing and views spectacular. Risus is beautifully presented, extremely clean, private and peaceful. I can honestly say our family had our best holiday ever here. We went for nine days during May this year, there was not one problem or negative I can give about the villa or area.

Rob was marvellous he arranged both our airport transfers, along with a car for the duration of our stay, he even booked a local restaurant for our first night and arranged for them to not only collect us but also take us home which was ideal as we were unfamiliar with the area. Rob is more than helpful he provided us with so much information on areas to visit which allowed us to get the most out of our stay, we had some fantastic days out and we didn't have one bad meal thanks to his advice. We felt he was always there for us, both before and during our stay but only when requested, never selling anything just giving us the information so we could make a knowledgeable choice.

Upon arrival the villa was spotless, essentials were provided in the fridge, little things like instructions for appliances and light switches were labelled so settling in took no time. Plenty of clean bedding and towels were provided, there really is nothing I can fault about the place on. The villa is modern, so spacious and very tastefully decorated and furnished to highest standard. I didn't know what I was expecting as I think you always take a chance booking somewhere from a few photos but the villa exceeded expectations. The outside area is perfect, the infinity pool was so clean and well maintained, the views stunning. The outside like inside was furnished to the highest standard, very comfortable sunloungers and plenty of them!.The dinning area and bbq provided the most amazing setting ,with versatile lighting to create the right mood.

In the master bedroom at the top of the villa was a massive balcony furnished with a rattan suit, I loved watching the sun rise or set from here with a coffee in the morning or wine in the evening.

Kalkan itself is the most beautiful area I have visited in Turkey , it's more upmarket , but also real, with local people and businesses blending together with holiday makers. Whilst there's enough going on it was less touristy compared to other areas which we loved. The people are friendly not pushy and there's plenty of great restaurants. All in all we had an amazing time and shall be returning.