12 GUITAR PICKS FOR ELECTRIC,ACOUSTIC AND BASS....NEW AND CHEAP. Free P&p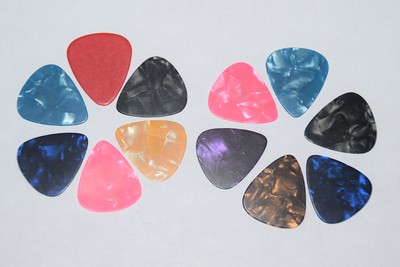 12 X GUITAR PLECTRUMS
THIS HAS TO BE THE CHEAPEST ON EBAY FOR 12 CELLULOID AND NYLON GUITAR PLECTRUMS FOR ONLY 0.99P!YES .....THAT RIGHT! FOR ONLY 0.99P, I WILL GIVE YOU 12 GUITAR PICKS AND I WILL EVEN THROW IN FREE POSTAGE AS WELL.THE PLECTRUMS ARE BRAND NEW, FACTORY MANUFACTURED TO THE HIGHEST QUALITY.THEY ARE MADE FROM CELLULOID AND ALSO SOME NYLON ONES TOO TO MAKE A GOOD MIXTURE.CELLULOID IS A MODERN MATERIAL MOST POPULAR FOR GUITAR PICKS AND REPLACES THE TRADITIONAL AND MORE EXPENSIVE TORTOISE SHELL PICKS AND IS AN EXCELLENT SUBSTITUTE.THESE ARE ALL 100% BRAND NEW AND ARE SUITABLE FOR ALL TYPES OF GUITAR AND BASS.THEY ARE OF MIXED GAUGES AND COLOURS AND ARE SENT RANDOMLEY.FEEL FREE TO SEARCH FOR OTHER PLECTRUMS BUT UNLESS YOU WANT THEM AT THIS PRICE YOU MAY BE LOOKING AT HONG KONG OR CHINA AND THEN A 2 TO 4 WEEK WAIT.STYLES AND COLOURS MAY VARY SLIGHTLY FROM THE PHOTOS.THESE ARE IN THE UK AND ARE SENT EITHER THE SAME OR NEXT WORKING DAY.THANKS FOR LOOKING.