Disposable Vehicle Protection, Steering Wheel Covers Mechanics Bodyshop Valeters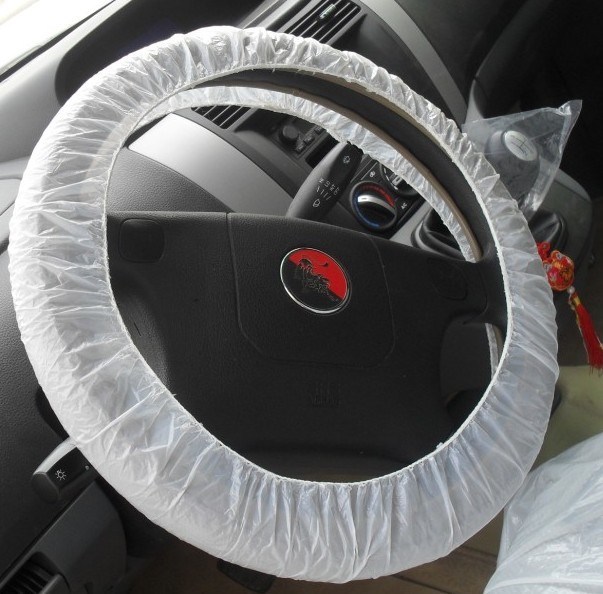 DISPOSABLE, CAR or VAN STEERING WHEEL COVERS Used by Garages, Vehicle Bodyshops, Mechanics, DIY & Valeters to help protect the car steering wheel from oils, paints cleaners etc etc Disposable Steering Wheel Covers They are made out of strong polythene and when stretched over the These covers are not the cling film type - our steering wheel covers are heavy duty, elasticated



From Only 99p

Buy with confidence!

We aim to dispatch within 1 working day of receiving cleared funds (Paypal) although this is not a guaranteed. We are happy to combine postage where possible to reduce the cost to you. Just purchase the items and request a total from seller, there are NO refunds given for postage amounts paid unless by prior arrangement. If you have any problems or concerns please do not hesitate to contact us, before you consider leaving negative feedback. We pride ourselveson our honest and reliable service – most problems are easily solved andwe will do our utmost to find a solution suitable both parties.Delivery, Postage & Packing How will I receive my order?

All items are sent either via Royal Mail second class/Parcel unless otherwise specified or by our nominated courier Fedex and will require a signature upon arrival. How long does delivery take?

We aim to deliver your purchase within 3 to 6 working days of you receiving your confirmation of acceptance of order/payment. (Royal Mail may take longer during busier periods) What happens if I'm not home when delivery is attempted?Our courier will leave a card to let you know they have attempted to deliver your product and will re-attempt delivery the next working day.If delivery fails on more than two occasions an additional charge for delivery may be incurred by the purchaser as the courier is only obligedto attempt delivery twice under the terms of the agreement. Please contact us via Ebay if you have any concerns. In the event that an item being delivered by Royal mail cannot be received,the buyer will be notified by card, note left by them etc,collection from theirlocal office may be required. Please let us know if you have any special requirement at the timeof item/s purchase. What do I do if my delivery hasn't arrived as expected?We pride ourselves on our commitment to delivering the highest standard of customer service to all our customers and our feedback rating is very important to us. If you have any problems with regardsto your delivery, please give us the opportunity to resolve the issue with you before you leave negative feedback by contacting our customer service team via our store at Ebay All goods are shipped using either a next or 2/3 day courier service or via Royal Mail second class (unless stated otherwise) Prices quoted forthe Next day courier service DO NOT include Northern Ireland, Scotland, some remote postcodes of England additional prices should be obtained by contacting us prior to any purchase. Proof Of Posting etcWe obtain a proof of posting for each item that is sent via Royal mail,in the unlikely event that an item is not delivered, goes missing etc we are happy to supply you with the original proof of posting for your item/purchase It is the responsibility of the purchaser to make a claim to the relevant department. Our courier delivery automatically covers loss or damage through our own policy. We aim to deliver your purchase within 3 to 6 working days of you receivingyour confirmation of acceptance of order/payment. (Royal Mail may take longer during busier periods) Payment Paypal is the quickest and safest form of payment for all. Returns It is the buyer's responsibility to ensure that the item they are buying is suitable for their needs. If an item is no longer required, we will accept it back as long as it is returned in its original condition, unused and in original packaging (undamaged). Any costs / postage charges incurred for returning items are the responsibility of the buyer. We suggest if you are returning an item for any reason that you obtain a proof of posting and would recommend you send the item/s requiring a signature to ensure we receive the goods safely. We try to list our products as clearly and accurately as possibly, but if You are unsure or need clarification about any of our products please feel free to contact us via Ebay prior to buying. In the unlikely event that anitem is listed incorrectly or the description is misleading, we will refund you for the product and all postage Additions: Terms & ConditionsBy placing an Order and purchasing goods from Valetbits2U you enter into a legally binding agreement with us on the following Conditions. You should read and understand these Conditions because they affect your rights and liabilities.These are the Standard Terms and Conditions of Sale of: Valeting Solutions Direct Ltd, warehousing at.Unit 3 White Leather Square Billingborough Sleaford Lincolnshire NG34 0QP ("We" or "Us") for certain products as set out in the pages on this site ("The Goods")Subject to the provisions of Clause 4.2 below, the price of the Goods the delivery charges and Value Added Tax where applicable is set out in the Order Form.In accordance with the provisions of the Consumer Protection Distance Selling Regulations 2000, you have the right to withdraw from this transaction. Details of your rights are available on the internet or by request and can also be found in Clause 9 below. 1. Interpretation1.1 In these Conditions:'Conditions' means the standard Terms and Conditions of sale set out in this document;'Contract' means the contract for the sale of the Goods; 'Delivery Area' means UK Mainland 'Order' means any order placed by you with us for the supply of Goods; 'Regulations' means the Consumer Protection (Distance Selling) Regulations 2000;1.2 Reference to any statute or statutory provisions shall be deemed to include any statutory modifications or re-enactments thereof or any rules or regulations made there under or any enactment repealing and replacing the act referred to.1.1.1 Unless the context otherwise requires:-1.1.2 words importing the singular shall include the plural and vice versa;1.1.3 words importing the masculine gender shall include the feminine gender and vice versa;1.1.4 References to persons shall include bodies of persons whether corporate or incorporate.1.4 Unless the context otherwise requires references to clauses shall be construed as references to clauses of these Conditions.1.5 Headings are inserted for convenience only and shall not affect the construction or interpretation of these Conditions.2. Basis of the Sale2.1 We shall sell to you and you shall purchase only those goods which you have set out in an order and which have been accepted by us. We reserve the right to reject any order. Unless otherwise agreed in writing each such sale of Goods will be subject to these terms and conditions.2.2 No Order submitted by you shall be deemed to be accepted by us unless and until confirmed by e-mail or in writing by us.2.3 No variation to these Conditions shall be binding upon us unless and until agreed by e-mail or in writing to us.2.4 Any error or omission in any information or document issued by us shall be subject to correction provided that the correction does not materially affect the contract.3. Orders3.1 The quantity, quality and description of the Goods will be those set out in your Order (if accepted by us).3.2 Orders are accepted at our sole discretion but are normally accepted if the Goods are available, the order reflects current pricing, you are based in the Delivery Area and your credit or account card is authorized for the transaction.3.3 You or we are entitled to withdraw from any contract in the case of obvious errors or inaccuracies regarding the Goods appearing in our website.3.4 You shall be responsible for ensuring the accuracy of the terms of any Order submitted by you, and for giving us any necessary information relating to the Goods within a sufficient time to enable us to perform the Contract in accordance with its terms.3.5 The quantity, quality and description of and any specification of the Goods which arerequired to conform with any applicable statutory or EC requirements.4. Price of the goods4.1 The price of the Goods shall be the price set out on the relevant page of this site. We reserve the right to change the prices set out on this site providedthat if we accept an order from you the price for the goods will be the price set outin the relevant range at the time the order is placed.4.2 If the price of the Goods increases between the date we accept your Order and the delivery date, we will let you know and ask you to confirm [by email/in writing] thatthe new price is acceptable. If it is not acceptable then you will, of course, have the option of cancelling the Order.4.3 The price of the Goods does not include insured postage or packaging. There will be an additional charge made relative to the size and amount of Goods insured for postage and packaging. This charge made relative to the size and amount of Goods insured for postage and packaging. This charge will be clearly shown on the Order form.4.4 The total price is inclusive of any applicable value added tax. 5. Terms of payment5.1 Upon providing us with details of the Payment Card and submitting theOrder you:5.1.1 confirm and undertake that the information contained within the Order is true and accurate and that you are duly authorized to use the Payment Card;and5.2 If it is not possible to obtain full payment for the Goods from your account on delivery of the Goods to you, we can cancel the Order or suspend any further deliveries to you. This does not affect any other rights we may have.5.3 Where Goods are returned by you in accordance with your rights under the provisions of Clause 9, we shall credit the appropriate account with the appropriate amount.5.4 We will not pass your personal information on to any third party without your permission. Unless solely due to our negligence we cannot be held liable for any losses you may suffer. If in any event your Payment Card is used fraudulently you are entitled to cancel the payment and be reimbursed by the card issuer without being charge for the loss.6. Delivery6.1 Delivery of the Goods shall be made by us or by our carrier to the address for delivery shown on your purchase form (Ebay/Paypal) It is important that this address is accurate. Once the Goods have been delivered in accordance with your delivery instructions, you will be responsible for them. Our responsibility for everything other than damage due to our negligence or due to a manufacturing design or design fault will cease upon delivery.6.2 We will do all that we reasonably can to meet the date given for any delivery or, if no date has been agreed, within 3- 5 working days of the order date. We cannot be held responsible for delays beyond our control (Bad weather, strikes etc) 6.3 If the order is a multiple order and we are unable to make delivery of the whole order but are able to deliver part we will contact you, informing you of this, and delivery will be on a mutually agreed date.In this instance delivery will be said to be made in installments. Each delivery shall constitute a separate contract and any failure by us to deliver anyone or more of the installments will not entitle you to treat the contract as a whole as repudiated.6.4 If we fail for any reason within our control to fully/partially deliver your Goods any reimbursement shall be no more than the price of the Goods, together with any delivery and/or reasonable return costs.6.5 Either party is entitled to cancel the contract in respect of non-performance of obligations in relation todelivery. If cancelled we will refund you any monies already paid by you.7. Risk and property7.1 As soon as we have delivered the Goods or services, you will be responsible for them. If you delay a delivery our responsibility for everything other than damage due to our negligence will end on the date we agree to deliver them, as set out in the contract.7.2 Subject to the provisions of clause 9 and notwithstanding delivery and the passing of risk in the Goods, or any other provision of these Conditions, the property in the Goods shall not pass to you until we have received in cash or cleared funds payment in full of the price of the Goods. Goods supplied to you are not for resale.8. Warranties and liability8.1 Terms and conditions of this contract do not affect any additional rights you may have under a manufacturer's warranty/guarantee. These rights are given to you by the manufacturer in addition to your statutory rights. Any additional rights given to you by the manufacturer in respect of Goods purchased are not incorporated into this contract.8.2 As a consumer you have statutory rights regarding the return of defective Goods and claims in respect of losses caused by any negligence on our part or our failure to carry out our obligations. The terms and conditions of this contract do not affect your statutory rights. For further information regarding these rights contact Trading Standards or Citizen's Advice Bureau.8.3 IMPORTANT NOTICE: TIME LIMIT FOR NOTIFICATION OF CLAIMS.You are asked to examine the goods at time of delivery or as soon as reasonably possible after delivery. Any claim by you based on any defect in the quality or condition of the Goods or their failure to correspond with specification must (whether or not delivery is refused by you) be notified to us via the correct channels in this case via Ebay within 7 days from the date of delivery or within a reasonable time after discovery of a defect or item missing.8.4 Where a valid claim in respect of Goods delivered is notified to us within 7 days of the delivery date, or within a reasonable time if not apparent on reasonable inspection, you are entitled to:reject the Goods and receive a full refund;or have the Goods (or the part in question) replaced free of charge.Any claims made after 7 days of delivery or exceeding a reasonable time of discovery, we shall be entitled to either:replace the Goods (or the part in question) free of charge orat our sole discretion refund to you the price of the Goods (or a proportionate part of the price) and we shall have no further liability to you.8.5 Except in respect of death or personal injury caused by our negligence we will not be liable under this contract for any loss or damage caused by us or our agents in circumstances where:i) there is no breach of a legal duty of care owed to you by us or by any of our employees or agents;ii) such loss or damage is not a reasonably foreseeable result of any such breach;iii) any increase in loss or damage resulting from breach by you of this contract.In the event that you are using the supply address in part for commercial purposes then no liability for loss of profits or other economic loss arising out of a breach of this agreement can be accepted.8.6 Subject to our obligations, and your rights under the Regulations, we shall not be liable to you or be deemed to be in breach of the contract by reason of any delay in performing, or any failure to perform,any of our obligations in relation to the Goods if the delay or failure was due to any cause beyond our reasonable control.8.7 We assume no responsibility for the contents of any other web sites to which this Web Site has links to.9. Right to Cancel9.1 You have a cooling off period of 7 days after the date on which you have received the Goods to cancel the Contract, and return the Goods at your cost and receive a full refund of the purchase price and any delivery cost.9.2 During the cooling off period any cancellation must be given by written notice by either party.9.3 Gods must be returned complete and undamaged with all accessories and instructions. The originalpacking must be returned in reasonable condition.9.5 In the event that we supply substituted Goods to you in accordance with the provisions of Clause 2, your right of cancel is as set out as above except that the cost of returning the Goods shall be borne by us.10. Communications10.1 Any communication sent electronically by e-mail or otherwise:10.1.1 will be deemed to have been sent once it enters the Information System outside the control of the originator of the message;10.1.2 will be deemed to have been received by the intended recipient at the time that in a readable formit enters an Information System which is capable of access by the intended recipient;10.1.3 will be deemed to have been dispatched in the case of a business at its principal place of business and in the case of an individual where he or she ordinarily resides;10.1.4 will be deemed to have been received in the case of a business at its principal place of business and in the case of an individual where he or she ordinarily resides;10.2 To protect your own interests you should ask for a delivery receipt for any such and retain a hard copy of that delivery receipt and the original correspondence.11. General11.1 Any communication sent by post will be deemed received by the intended recipient three days following mailing where sent by first class post or five days after mailing where sent by second class post.11.2 The clauses of these Conditions and each sub-clause thereof are several and if any part of any clause or sub-clause shall be void, invalid, or unenforceable the the remainder of such clauses or sub-clauses shall nevertheless be valid and enforceable.

11.3 No term of the Contract is intended to confer a benefit on, or be enforceable by, any person who is not a party to the Agreement (whether under the Contracts (Rights of Third Parties) Act 1999 or otherwise).11.4 If any provision of these Conditions is held by any court or competent authority to be invalid, unlawful or unenforceable in any jurisdiction in whole or in part, it will not affect the validity or enforceability of the other provisions of these Conditions and the remainder of the provision in question shall not be affected nor will it affect the validity, lawfulness or enforceability of that provision in any other jurisdiction.11.5 We will try and solve any disagreements quickly and efficiently. If you are not happy with the way wedeal with any disagreement and you feel you must take court proceedings you must do so within the United Kingdom.