Mohammed's Koran: Why Muslims Kill For Islam By Tommy Robinson & Peter ePub/Mobi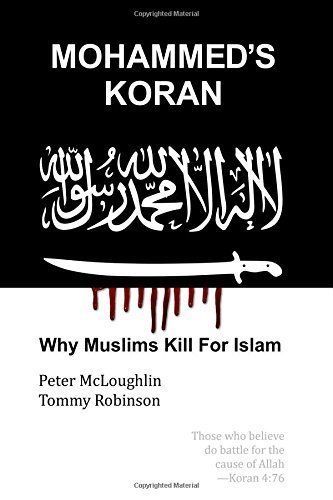 "Why is it that almost all the terrorism in the West is coming from the small minority of the population who are Muslims? Why are they doing this if, as politicians and clergy keep assuring us, Islam is a religion of peace? We are sure these questions are being asked in most homes. Your questions are answered in this book. The truth is that Islam is a religion of war, and the educated elite in the West have had proof of this for over 150 years. But since 9/11 they have been actively deceiving the rest of the population - because the elite dare not tackle the problem. Our journalists have totally failed in their function to challenge and correct the lies of politicians.

"So, the problem with Islam in the West has grown worse every year since the early 1990s. There is no sign that anything will be done to stop this until ordinary people take it upon themselves to understand Islam and expose the lies which paralyse the West's discussions of Islam. This book provides you with a revolutionary way to understand Islam: you can understand the Koran within minutes instead of months. You will have concrete evidence that any part of the Koran which appears peaceful has been cancelled by a later command to be violent. You will see Islam's hatred and contempt for non-Muslims laid bare. When teachers indoctrinate your children or force them to attend a mosque, use our book to shame these educators for their part in the deception. After reading this book you will understand the threat facing your children's future and you will have the knowledge to make politicians find some backbone. All over the world, history has shown that Islam offers two options: submit or die."

*Please do note that this is not a physical copy. It is a digital version.

*CONTENTS OF THIS ITEM IS DISTRIBUTED FREELY AND GLOBALLY UNDER THE TERMS OF THE GNU PUBLIC LICENSE. THE GNU LESSER PUBLIC LICENCE (LGPL) OR IS A FREEWARE WITH FREE/OPEN DISTRIBUTION LICENSE. THIS ITEM DOES NOT INFRINGE ANY COPYRIGHT, TRADEMARK OR ANY EBAY LISTING POLICIES. ALL OTHER TRADEMARKS ARE ACKNOWLEDGED AS BELONGING TO THEIR RESPECTIVE OWNERS. ALL MY ITEMS ARE EITHER IN THE PUBLIC DOMAIN OR HAVE BEEN COLLECTED AND COMPLIED BY ME.